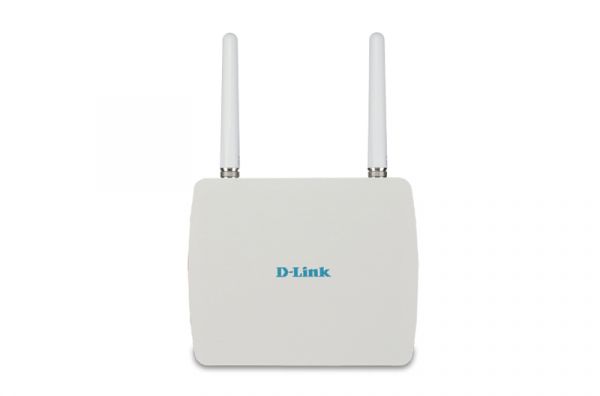 DAP-3340
EOL EOS
נקודת גישה אלחוטית בתקן 802.11n עם תמיכה ב - PoE עד 300Mbps
היכן לקנות
תאור
Outdoor Wireless 802.11n access point with support for PoE D-Link DAP-3340 is ideal for the creation of zones of hot spot, which provide Internet access to users outside the premises. This versatile access point to the increased power and functions of the weather resistance of the transmitter is perfect for installation in factories, industrial complexes, conference halls, college campuses, airports, golf clubs, river stations and other public places.
 
Multifunctionality
DAP-3340 will allow network administrators to create a manageable and reliable wireless networking standard, 802.11n. Supplied antennas are removable and provide the optimal range of your wireless network in the frequency range 2.4 GHz (802.11g and 802.11n), using a high power transmitter to reduce the lack of reception areas and increase capacity. This high-speed access point supports standard 802.3af Power over Ethernet (PoE), allowing you to easily install this device in areas where power outlets are not available.
Security
In order to ensure wireless network security DAP-3340 supports both Personal and Enterprise versions of WPA and standard WPA2 (802.11i) with RADIUS-server. In addition, the access point supports MAC-address filtering, wireless LAN segmentation, Disable Broadcast SSID, the detection of unauthorized access points and wireless network in Broadcast Scheduling.
DAP-3340 supports up to eight VLAN, which allows multiple SSID to segment users on the network. Also, the access point implemented wireless client isolation mechanism, which limits direct interaction such as "client-client."
 
Modes of operation
The DAP-3340 can be configured in one of the following modes: Access Point, Wireless Client, Wireless Distribution System (WDS) and WDS access point. With WDS support, network administrators can set up multiple access points DAP-3340, and set them to work with each other in bridge mode, while providing access to individual clients. In addition, support for Spanning Tree Protocol contribute to more efficient transmission of traffic and to avoid broadcast storms when used in a mode of WDS.
 
Network control
Network administrators have multiple opportunities to manage the access point, DAP-3340, which include Web-based (HTTP), Secure Sockets Layer (SSL, which provides a secure connection to the Internet), Secure Shell (SSH, which provides a secure channel between local and remote computers) and Telnet. For advanced network management, administrators can use D-Link AP Manager II or management module for SNMPv3 D-View, to configure and manage multiple APs from a single computer. In addition to a management, AP Manager II or D-View allows network administrators to remotely test equipment, eliminating the need for direct personal control over any operations.
מאפיינים כללים
Standards
• IEEE 802.11n
• IEEE 802.11g
• IEEE 802.3ab
• IEEE 802.3af
• IEEE 802.3u
• IEEE 802.3
 
Network control
• Telnet - Secure (SSH) Telnet
• Web-interface
• HTTP - Secure HTTP (HTTPS)
• SNMP support
• Module D-View - Private MIB
• AP Manager II
• AP Array
 
Security
• WPA ™-Personal
• WPA-Enterprise
• WPA2 ™-Personal
• WPA2-Enterprise
• 64/128-bit WEP encryption
• SSID Broadcast Disable
• Access Control MAC-based
• Detect rogue access points
 
Support for VLAN / SSID
802.1q/Podderzhka up to 8 SSID
 
Quality of Service (QoS)
• 4 priority queues
• Priority WMM
 
Frequency band
From 2.4 GHz to 2.4835 GHz
 
Wireless Speed
• 802.11b: 1, 2, 5.5, 11 Mbit / s
• 802.11g: 108, 54, 48, 36, 24, 18, 12, 9 and 6 Mbit / s
• 802.11n: up to 300 Mbit / s
 
Transmitter output power
802.11b:
• 20 dBm (± 2dB) for 1, 2, 5.5, 11 Mbit / s
802.11g:
• 20 ± 2dBm at 6 ~ 24 Mbit / s
• 20 ± 2dBm at 36 Mbit / s
• 19 ± 2dBm at 48 Mbit / s
• 18 ± 2dBm at 54 Mbit / s
802.11n:
HT20
• 20 ± 2dBm at MCS0 ~ a
• 20 ± 2dBm at MCS2 ~ 3
• 20 ± 2dBm at MCS4
• 19 ± 2dBm at MCS5
• 18 ± 2dBm at MCS6
• 17 ± 2dBm at MCS7
HT40
• 20 ± 2dBm at MCS0 ~ 3
• 20 ± 2dBm at MCS4
• 19 ± 2dBm at MCS5
• 18 ± 2dBm at MCS6
• 17 ± 2dBm at MCS7
 
Receiver Sensitivity
802.11b:
•-76dBm at 1 Mb / s
•-76dBm at 2 Mb / s
•-76dBm at 5.5 Mbit / s
•-76dBm at 11 Mbit / s
802.11g:
•-82dBm at 6 Mbit / s
•-81dBm at 9 Mbit / s
•-79dBm at 12 Mbit / s
•-77dBm at 18 Mbit / s
•-74dBm at 24 Mbit / s
•-70dBm at 36 Mbit / s
•-66dBm at 48 Mbit / s
•-65dBm at 54 Mbit / s
802.11n:
HT20
•-82dBm at MCS0
•-79dBm at MCS1
•-77dBm at MCS2
•-74dBm at MCS3
•-70dBm at MCS4
•-66dBm at MCS5
•-65dBm at MCS6
•-64dBm at MCS7
HT40
•-82dBm at MCS0
•-79dBm at MCS1
•-77dBm at MCS2
•-74dBm at MCS3
•-70dBm at MCS4
•-66dBm at MCS5
•-65dBm at MCS6
•-64dBm at MCS7
 
Modes of operation
• Access Point (AP)
• WDS with AP
• WDS / Bridge (No AP Broadcast)
• Wireless client
 
Gain dipole antenna
• 5 dBi for 2.4 GHz
 
Maximum output power
• 23 dBm for 2.4 GHz
 
Indicators
• Power
• LAN
• WLAN 2.4 GHz
נתונים פיזיים
Maximum power consumption
9 watts of PoE
 
Operating voltage
48 V DC + / - 10% for PoE
 
Weight
1.62 kg
 
Dimensions
250 x 220 x 72,3 mm