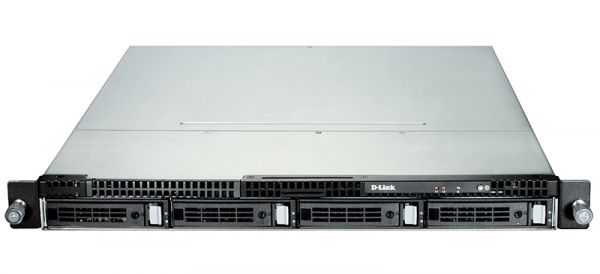 DNS-1560-04
EOL EOS
שרת אחסון ל 4 דיסקים, 2 פורטים LAN במהירות ג'יגהביט, 2 פורטים USB ויציאת VGA
היכן לקנות
תאור
Small and medium-sized businesses (SMB) are faced with an ever-growing need to preserve data integrity and sharing. Unified NAS array NAS / iSCSI DNS-1560-04, rack-mountable, designed for SMB segment and is a solution that meets the growing demand for data storage and provides many options for file management and security.
 
Unified Storage Solution
DNS-1560-04 is a unified solution that provides the functionality of iSCSI and NAS. The disk array DNS-1560-04 is characterized by high performance read / write iSCSI, the average data rate while higher than many competitive products. This device also supports multiple modes of RAID, eliminating the risk of losing valuable data. An array with 4 compartments for SATA hard drives and supports drives in RAID 0, 1, 5, 6, 10 or JBOD. Moreover, DNS-1560-04 support multiple protocols, including SMB, NFS, AFP, FTP, WebDAV, and iSCSI. With these features, this disk array is characterized by high productivity, efficiency and a wide range of management functions.
 
Wide range of backup options
DNS-1560-04 provides a variety of backup options that allow administrators and users to choose the way, time and place of storage. In addition, users can create a snapshot of a volume, use the Amazon S3 cloud storage or back up on the other unified storage.
 
Reducing energy consumption
Disk Array DNS-1560-04 is certified according to the standard 80 PLUS. Certificate 80 PLUS provides products with energy efficiency at least 80% at certain levels of the rated load. Thanks to the 80 PLUS certification disk array DNS-1560-04 provides high performance while consuming less power, which significantly reduces operating costs.
 
Effectiveness
Disk Array DNS-1560-04 provides a mechanism «Thin provisioning», which allows you to dynamically allocate disk space on the basis of the minimum required amount. In addition, «Thin provisioning» allows you to work with unstructured data and files with random addressing, processing these records as a sequence of individual blocks.
 
Management
Easy and intuitive interface DNS-1560-04 is much easier to work with the device. In addition, an array of DNS-1560-04 is able to work with a directory service Windows Active Directory and LDAP, which allows system administrators to easily manage user accounts in corporate networks.
מאפיינים כללים
Standards
• RoHS
• CE
• BSMI
• FCC
 
Supported hard drives
• Up to 4 hard drives SATA II / III or SSD *
 
ROM
• 4GB
 
CPU
• Intel® Atom ™ D2550
 
Ventilation system
• 2 fans
 
Ports
• Two 10/100/1000 Mbit / s
• VGA Port
• Two USB 2.0 ports
• Two power connector
 
Indicators
• Status
• Access
• Active Gigabit Ethernet ports
• Connection / speed Gigabit Ethernet ports
 
Form Factor
• 4 compartments, height 1U
 
Functionality
Disk Management
• Multiple hard drive configurations:
   + Standard
   + JBOD
   + RAID 0, 1, 5, 6, 10
• Efficient use of space
   + Compression
   + «Thin provisioning»
• Combining hard drives (pool)
   + Backup hard drive
   + Support for multiple RAID groups
   + Automatic recovery partition
   + Expanding the pool in real time (Online pool expansion)
   + Move pool offline (Offline pool roaming)
 
Network
• DHCP or static assignment of IP-addresses
• NTP-client
• Jumbo-frame
• Trunking
• LACP
• VLAN tagging
• WINS-client
 
Service Information
• SMB v2 for Windows
• NFS v3 / v4 for Linux and UNIX
• AFP v3.3 for MAC OS X
• FTP
• SFTP
• iSCSI target
• WebDAV
 
Data protection
• Snapshot
• Cloning of volumes and file systems
• Remote Backup
• Backup and restore data after a failure based on Amazon S3
• ZFS file system
 
Account Management
• User Account Control
• Manage user and group accounts
• Network Access Control
• The directory service Microsoft Active Directory
• LDAP
 
Network control
• Event Notification
   + Email
   + SNMP trap
   + System Log
• Status of performance
• Monitoring system status and availability of the device
• S.M.A.R.T.
• Wake-on-LAN
 
Backup Management
• Reliable local backup
• Reliable remote backup
• Cloud backup (Amazon S3)
 
Device control
• Support for Web-browser:
   + Internet Explorer 7 or higher
   + Mozilla Firefox 3 or higher
   + Apple Safari 4 or higher
• Wizard system (Win / Mac)
• Service Management System
• Wake-on-LAN
• E-mail notifications
• SNMP trap
• System Log
• Health Status
• Monitoring system status and availability of the device
• S.M.A.R.T.
 
Power Management
• Reserve power supply
 
Remote file sharing
• FTP-server
• WebDAV
 
File Sharing
• Max. number of user accounts: 4096
• Max. the number of groups: 512
• Max. the number of public folders: 256
• Max. the number of simultaneous connections Samba-512
• Max. the number of simultaneous FTP-connections: 512
 
Security
• Encrypted access
   + HTTPS
   + FTP with SSL / TLS (Explicit)
   + SFTP and SSH (Admin)
• Three-year subscription to McAfee antivirus
• Access Control user / group CIFS shared folders
נתונים פיזיים
Dimensions
• 533,4 x 442 x 44 mm
 
Weight
• 7.7 kg
 
Power
• 226 W (single power supply)
 
Power consumption
• 70 W in the normal mode
 
Temperature
• Operating: 0 ° to 40 ° C
 
Humidity
• From 0% to 90% (non-condensing)
 
Certifications
• CE
• FCC