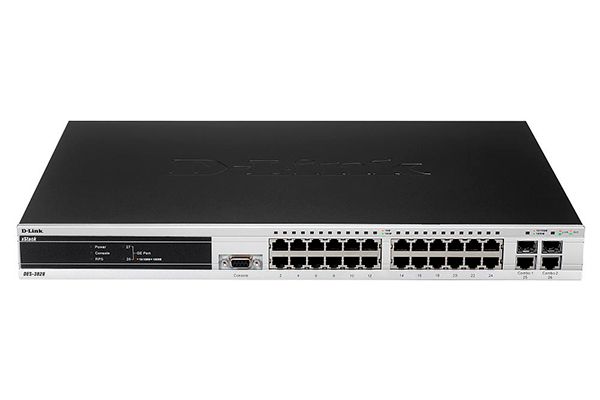 DES-3828
EOL EOS
מתג מנוהל 24 פורטים Layer3 במהירות 10/100 + 2 פורטים ג'יגהביט + 2 פורטים Combo SFP
היכן לקנות
תאור
For the SMB requiring a cost effective core switching solution, as well as for larger Enterprise and Metropolitan Service Provider (MSP) environments needing a managed, feature rich switch capable of uplinking to backbone switches, the D-Link xStack DES-3828 is designed to meet the needs of the most demanding departmental and enterprise connectivity applications. The xStack DES-3828 Switch is a fully managed Layer 3 switch that provides 24 10/100Mbps Fast Ethernet ports and 2 Combo SFP/1000BASE-T Gigabit Ethernet ports. In addition, 2 fixed 1000BASE-T ports in the back-panel can provide a dedicated trunk connection between devices or core switches. The xStack DES-3828 also provides virtual stacking functionality via D-Link Single IP Management (SIM) technology allowing up to 32 units to be managed via a single IP address. With support for Q-in-Q Double VLAN tagging, IPv6 awareness*, Dynamic Layer 3 Routing, IEEE 802.1s, and bandwidth control, the xStack DES-3828 incorporates advanced features suitable for the MSP as well as the SMB and Enterprise size network.

Watch episode on DES-3800 Series.
Advanced L3 Routing
The xStack DES-3828 is a high performance Layer 3 switch that provides an ideal solution by offering advanced Layer 3 routing features such as RIP, OSPF, VRRP, up to 10 IP addresses per VLAN, and floating static routes. Multi-path Routing*, which is the method of establishing multiple paths between given source-destination nodes within a network, is also a feature supported on the xStack DES-3828. These added routing features provide redundancy, improve network utilization, and provide load balancing for the network.


Learn more. Download the D-Link End Point Security Strategy Whitepaper
Metro Switching
Service provider networks are moving from circuit-based access to newer packet-based access that requires highly reliable intelligent switching and demands resiliency and dependability. The xStack DES-3828 meets this demand by supporting industry standards for 802.1s (Multiple Spanning Tree), 802.3ad link aggregation for up to 32 groups, bandwidth rate limiting down to 64k, and support for an external redundant power option for added peace of mind. In addition, the xStack DES-3828 offers Double VLAN Q-in-Q tagging, which adds on an additional tag to a VLAN tag, expanding the VLAN space and allowing service providers to deploy their service quickly and securely. The xStack DES-3828 also incorporates advanced QoS support such as the ability to filter and forward traffic based on Layer 2/3/4, making it an ideal choice for VoIP, video, and audio services targeting business class customers.
Network Security
The xStack DES-3828 is equipped to handle many of today's emerging security vulnerabilities. Up to 800 independent access control lists can be configured with the ability to filter and block traffic based on such criteria as: Port, MAC, 802.1p priority, VLAN, DSCP, IP address, Protocol type, and TCP/UDP port number and content, proving that the xStack DES-3828 provides unparalleled security in its class. In addition, the xStack DES-3828 incorporates 802.1x Port-based and MAC-based RADIUS authentication for secure network logins and SSH/SSL for increased management security. Further, the xStack DES-3828 incorporates IP-MAC-Port Binding and the D-Link Safeguard Engine to protect the CPU from broadcast, multicast, and unicast flooding.
* Available in future firmware upgrade
מאפיינים כללים
Technical Specifications

DES-3828

| | |
| --- | --- |
| • | xStack Managed 24 Port 10/100 Stackable L3 Switch, 4 Gigabit Copper Ports, 2 Combo SFP |

Packet Buffer

MAC Address Table

IP Address Table

IP Routing

| | |
| --- | --- |
| • | 128 Static/ 2K Total Hardware Routing Table |

Aggregated Bandwidth

Transmission Method

Forwarding Rate

| | |
| --- | --- |
| • | 14,880pps (10M), 148,800pps (100M), 1,488,000pps (1000M) |

VLANs Support

| | |
| --- | --- |
| • | Up to 4K Static, 255 Dynamic 802.1p VLAN Groups |

Priority Queues

| | |
| --- | --- |
| • | 8 Queues - Strict Priority or Weight Round Robin Queue Scheduling |

Classification ACLs

| | |
| --- | --- |
| • | MAC Address, IP Address, TCP/UDP Port Number & Payload, Physical Port, DSCP, 802.1p,VLAN, Protocol Type |

Classification QoS

| | |
| --- | --- |
| • | MAC Address, IP Address, TCP/UDP Port Number, Physical Port, DSCP, ToS |

Multicast Support

| | |
| --- | --- |
| • | IGMP v1/2/3, IGMP Snooping, PIM-SM, PIM-DM, DVMRP |

Jumbo Frames

Number of IP Interfaces per VLAN

Multicast Duplication

| | |
| --- | --- |
| • | Hardware Packet Replication on 8 VLANs on FE Ports and 32 VLANs on GE Ports |

Port Security

| | |
| --- | --- |
| • | Supports 16 MAC Addresses per Port |

Broadcast Storm Bandwidth Control

| | |
| --- | --- |
| • | Minimum Granularity: 1pps per Port |

IP-MAC-Port Binding

| | |
| --- | --- |
| • | Supports 500 Entries per Device |

D-Link Safeguard Engine

| | |
| --- | --- |
| • | Protect CPU from Broadcast/Multicast/Unicast Flooding |

CPU Monitoring

| | |
| --- | --- |
| • | Utilization via Web/CLI/SNMP. Trap /Logging Notification When Configurable Threshold Reached |

Interface Options

RJ-45

| | |
| --- | --- |
| • | 10BASE-T, 100BASE-TX, 1000BASE-T |

LC

| | |
| --- | --- |
| • | With Optional Standard Small Form-Factor Pluggable (SFP) Gigabit Transceivers |

RPS

| | |
| --- | --- |
| • | Redundant Power Option Via Optional (DPS-200) |

Network Management

In Band & Out of Band

| | |
| --- | --- |
| • | Telnet, CLI/Console, RMON, Web-based HTTP, SNMPv1/v2/v3, Syslog, Port Mirroring, TFTP Client, BootP Client, DHCP Client, BootP/DHCP Client, IEEE 802.3 Ethernet, 802.3u Fast Ethernet, 802.3ab Gigabit Ethernet, 802.3z Gigabit Ethernet, 802.1d Spanning Tree, 802.1w Rapid Spanning Tree, 802.1p Priority Tags, 802.1q VLANs (4K static/ 255 dynamic), 802.3ad Link Aggregation (32 Groups/8 ports), 802.3x Flow Control, 802.1x Port-based /MAC based control, 802.1s (Multiple Spanning Tree), WRED congestion control, STP loopback detection, GVRP, Guest VLAN, Per port limit IP multicast address range, Web GUI Traffic Monitoring, Web MAC address Browsing, SNMP Trap on MAC Notification, DHCP Relay Option, DHCP Auto-configuration, Trap/Alarm/Log Severity Control, Dual Image, Dual Configuration, Port Description, Editable Login Banner, Editable System prompt, Virtual Interface/Loopback Interface* |

IETF

| | |
| --- | --- |
| • | RFC 1157 SNMP, RFC 1112/2236 IGMPv1/2 IGMPv3, RFC 1757/2021/2819 RMON (4 Groups), RFC 1493 Bridge MIB, RFC 1213 MIB II, RFC 793 TCP, RFC 826 ARP, RFC 854 Telnet, and DiffServ, RFC 1724 RIP v1/2, RFC 1850 OSPF, DVMRP, RFC 2934 PIM-DM, PIM-SM, RFC 2932 Multicast Routing, RFC 2787 VRRP, RFC 2096 IP Forwarding Table, RFC 2618/2620 RADIUS Client, RFC 2863 IF MIB, RFC 2674 802.1p MIB, RFC 2665 Ether-like MIB, SSH, SSL, TACACS+, IGMPv3 MIB, RFC 2620 RADIUS Accounting Client MIB |

Electrical & Emissions Summary

Emissions

| | |
| --- | --- |
| • | CE Class A, FCC Class A, VCCI Class A, C-Tick Class A |

Power Supply

| | |
| --- | --- |
| • | AC Input: 100 - 240 VAC, 50/60 Hz Internal Universal Power Supply |

Power Consumption

Safety Agency Certifications and Environmental

Safety

| | |
| --- | --- |
| • | CSA International, CB Report |

Temperature

| | |
| --- | --- |
| • | Operating: 32° to 104° F (0° to 40° C) |
| • | Storage: -40° to 158° F (-40° to 70° C) |

Humidity

| | |
| --- | --- |
| • | Operating: 10% to 85% RH, Non-Condensing |
| • | Storage: 5% to 95% RH, Non-Condensing |

Physical Specifications

Dimensions (W x D x H)

| | |
| --- | --- |
| • | 12.16in x 17.36in x 1.73in (339mm x 441mm x 44mm) 1U Rack-mount size |

Weight

Accoustic Value

Warranty Information

Warranty

Ordering Information

Part Number

DES-3828

| | |
| --- | --- |
| • | xStack Managed 24-Port 10/100 Stackable L3 Switch, 4 Gigabit Copper Ports, 2 Combo SFP |

DEM-310GT

| | |
| --- | --- |
| • | 1000BASE-LX SFP Module up to 10Km |

DEM-311GT

| | |
| --- | --- |
| • | 1000BASE-SX SFP Module up to 550m |

DPS-200

| | |
| --- | --- |
| • | Redundant Power Supply Unit, 60 Watt RPSU |

DPS-800

| | |
| --- | --- |
| • | 2 Slot Redundant Power Supply Unit Chassis, for DPS-200 |
נתונים פיזיים