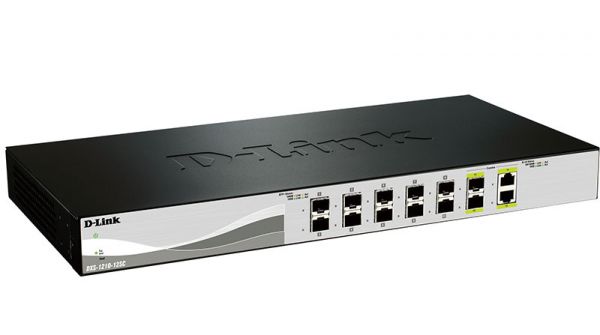 DXS-1210-12SC
EOL EOS
מתג מנוהל עם 10 פורטים במהירות 10G ושתי יציאות משולבות 10G/אופטי SFP+
היכן לקנות
תאור
Switch DGS-1210-12SC is an inexpensive device that provides job network in accordance with the requirements of any business segment. Thanks to the Combo ports 10GBase-T / SFP +, the switch provides extensive connectivity, thus simplifying, network integration. Due to the high performance switch DXS-1210-12SC allows you to use services such as cloud computing, virtualization, and application server-to-server. DXS-1210-12SC is the ideal solution for small and medium businesses.
Saving energy.
Using the technology of D-Link Green, switch DXS-1210-12SC able to save energy without sacrificing performance and functionality of the devices. This switch is equipped with intelligent silent fans that are capable of adjusting the rotational speed depending on the temperature, thus saving energy and reducing costs without affecting performance. The switch also determines the connection status of each port and automatically turns inactive ports in sleep mode. Due to the chipset used switch DXS-1210-12SC can significantly reduce energy consumption.

Simple operation and function of the level 2.
The switch supports a full set of Layer 2 features, including Port Mirroring, Spanning Tree, and Link Aggregation Control Protocol (LACP). In addition, the switch supports the Cable Diagnostics function and Loopback Detection. Loopback Detection is used to determine the loops and automatic shut-off port on which a loop was detected. Cable Diagnostics is designed to determine the quality of the twisted pair, and the type of cable error.

QoS, bandwidth management.
Switch DXS-1210-12SC supports Auto Surveillance VLAN (ASV) and Auto Voice VLAN, and is an ideal solution for deploying VoIP and video surveillance. Auto Surveillance VLAN - is a new, industry-leading technology, built-in switches, D-Link Smart. This technology combines data and video transmission via a single switch, reducing thus the cost of equipment and facilities. ASV also ensures quality video in real time and control, without prejudice to the transfer of conventional data network. The automatic determination of the connected equipment VoIP allows you to put "voice" traffic to a dedicated VLAN. With a higher priority and individual VLAN, this feature provides the quality and security of VoIP-traffic. In addition, DSCP marks Ethernet-packs with the appointment of the network traffic of different services. As a result, voice and video traffic gets a higher priority than other types of traffic. In addition, bandwidth management feature allows network administrators to reserve bandwidth for a variety of applications that require high bandwidth or might have high priority.

Network Security
Function D-Link Safeguard Engine protects the switches against traffic flooding caused by viruses. Authentication based on 802.1X port allows you to use an external RADIUS server to authenticate users. In addition, the Access Control List (ACL) feature enhances network security and helps protect your network by filtering traffic from unauthorized MAC-addresses or IP-addresses. The switches also support the function of preventing attacks ARP Spoofing, protects from attacks on an Ethernet, which can cause a change in traffic or delay by sending fake ARP-messages. To prevent ARP Spoofing attacks, the switch uses the Packet Control ACLs to block packets containing false ARP-message. For added security feature DHCP Server Screening, deny access to unauthorized DHCP-servers.

Convenient operation
Using the Utility D-Link Network Assistant allows administrators to remotely manage the network at the port level. Utility D-Link Network Assistant supports automatic detection and display on the D-Link switches Series Smart, belonging to the same network segment L2. The utility provides access to the switch from anywhere on the network without the need to enter IP-address or subnet mask that allows you to setup and basic installation of found devices, including password change and update software. Switch DXS-1210-12SC program also supports D-View 6.0 and a command line interface (CLI) through Telnet. D-View 6.0 is a network management system that lets you control the most important parameters such as performance, reliability, flexibility and security.

Easy integration into an existing network
Switch DXS-1210-12SC equipped with 10 10G SFP + ports and 2 combo port 10GBase-T / SFP +.
מאפיינים כללים
Interfaces
• 10 port 10G SFP +
• 2 combo port 10GBase-T / SFP +

Indicators
• Link / Activity / Speed ​​(per port 10GBase-T)
• Link / Activity / Speed ​​(per port 10G SFP +)
• Power / Fan (on the device)

Network Cables
• CAT-6 (max. 30 m)
• CAT-6A or CAT-7 (max. 100 m)

Performance
• switching matrix 240 Gbit / s

Speed ​​forwarding 64-byte packets
• 178,56 Mpps

Table MAC-addresses
• 16K entries

Transmission Method
• Store and Forward

Level 2 functions
• MAC-address table
o 16K entries
• Static MAC-addresses
o 1K
• IGMP Snooping
o IGMP v1 / v2 / v3 Snooping
o Support for up to 1000 IGMP-groups
o Support for up to 128 static multicast groups
o IGMP on VLAN
o Support for Fast Leave-based site
• MLD Snooping
o MLD v1 / v2 Snooping
o Support for up to 1000 groups
o Support for up to 128 static addresses multi-address delivery
o Support for Fast Leave-based site
• LLDP
• LLDP-MED
• Spanning Tree Protocol
o 802.1D STP
o 802.1w RSTP
o 802.1s MSTP
• Flow Control
• 802.3x
• HOL Blocking Prevention
• Port Mirroring
o One-to-One
o Many-to-One
o Support mirroring for incoming / outgoing / traffic in both directions
• 802.3ad Link Aggregation
o Max. 8 groups per device / 8 ports per group
• Jumbo-frame
o Before 9kb
• Loopback Detection is
• ERPS (Ethernet Ring Protection Switching) 1

VLAN
• 802.1Q
• VLAN port-based
• Group VLAN: 4K
• Custom VID
o 1 - 4094
• Voice VLAN1
• Auto Surveillance VLAN1
• GVRP1
• Asymmetric VLAN

Quality of Service (QoS)
• QoS based on:
o 802.1p
o DSCP
o ToS
o Class IPv6 traffic
o TCP / UDP port
o VLAN ID
o MAC-address
o Ether Type
o IP-address
o the type of protocol
o IPv6 flow label
• 802.1p
• 8 queues per port
• Mechanisms for queuing:
o Strict
o Weighted Round Robin (WRR)
o Deficit Round Robin (DRR)
o Weighted Deficit Round Robin (WDRR)
o Bandwidth Management
o Based on the port (incoming / outgoing, with minimum increments of 64 kbit / s)

Function level 3
• IP-interface
o Support 16 IPv4 / v6-interfaces
• ARP
o 128 static ARP entries
• Route default1
• IPv6 Neighbor Discovery (ND)
• Static marshrutizatsiya1
o Max. the number of records static routes IPv4: 32
o Max. the number of records static routes IPv6: 32

Access Control Lists (ACL)
• Max. the number of access lists: 512
• Max. the number of rules ACL: 512
• Max. the number of cards access VLAN: 501
• ACL based on:
o 802.1p Priority Queues
o VLAN1
o MAC-address
o Ether type
o IP-address
o DSCP
o the type of protocol
o Non-TCP / UDP-port
o IPv6-Class Traffic
o IPv6 flow label

Security
• Protection from the broadcast / multicast / unicast storm
• D-Link Safeguard Engine
• DHCP Server Screening
• Binding IP-MAC-Port
o DHCP Snooping1
o IP Source Guard1
o Dynamic ARP Inspection1
o IPv6 Snooping1
o IPv6 Source Guard1
o DHCPv6 Guard1
o IPv6 ND Inspection1
o IPv6 Route Advertisement (RA) Guard1
• Segmentation of traffic
• SSH1
o Support v1 / v2
o Support IPv4 / IPv6
• SSL
o Support v1 / v2 / v3
o Support IPv4 / IPv6
• Prevent attacks ARP Spoofing1
o Max. number of records: 127
• Prevention of DoS attacks
• Port Security
o Support for up to 64 MAC-addresses per port
• Detection of the problems associated with the coincidence of network addresses

OAM
• Cable Diagnostics

AAA
• Based Access Control Web (WAC) 1
o Support local database / RADIUS-server
o Based Access Control Port
o Based Access Control nodes
o Dynamic VLAN assignment
o Appointment Policy Identity-driven (VLAN / ACL / QoS)
• Authentication 802.1X1:
o Dynamic VLAN assignment
o Appointment Policy Identity-driven (VLAN / ACL / QoS)
o Support local database / RADIUS-server
o Based Access Control Port
o Based Access Control nodes
o Support for EAP, OTP, TLS, TTLS, PEAP
• RADIUS-server protocol support Pv4 / IPv61
• Support for TACACS + IPv4 / IPv61
• Guest VLAN1
• Compound Authentication1
• Authentication to access management
• Authentication Database Failover1
• Access Control MAC-based (MAC) 1
o Support local database / RADIUS-server
o Based Access Control Port
o Based Access Control nodes
o Dynamic VLAN assignment
o Appointment Policy Identity-driven (VLAN / ACL / QoS)

Management
• Web-interface
• Utility D-Link Network Assistant
• Command Line Interface (CLI)
• Telnet-server
• TFTP-client
• Configurable MDI / MDIX
• SNMP
o Support v1 / v2c / v3
• SNMP Trap
• Smart Wizard
• LLDP
• LLDP-MED
• DHCP Relay1
• System Log
• BootP / DHCP-client
• SNTP1
• ICMP v6
• IPv4 / v6 Dual Stack
• DHCP Auto Configuration1
• RMON v1 / v21
• Trusted Host
• Support for multiple versions of the software
• Support for multiple versions konfiguratsii1
• DNS-CLIENT1
• Debug commands

Technology Green V3.0
• Energy savings based on:
o turn off the indicator
o Sleep mode
o disable ports

Standards MIB / RFC
• RFC 783 TFTP
• RFC 951 BootP / DHCP-client
• RFC 1157 SNMP v1, v2, v3
• RFC 1213 MIB II
• RFC 1215 MIB Traps Convention
• RFC 1350 TFTP
• RFC 1493 Bridge MIB
• RFC 1769 SNTP
• RFC 1542 BootP / DHCP-client
• RFC 1901 SNMP v1, v2, v3
• RFC 1907 SNMP v2 MIB
• RFC 1908 SNMP v1, v2, v3
• RFC 2131 BootP / DHCP-client
• RFC 2138 Authentication RADIUS1
• RFC 2139 RADIUS authentication
• RFC 2233 Interface Group MIB
• RFC-2246 SSL
• RFC 2475
• RFC 2570 SNMP v1, v2, v3
• RFC 2575 SNMP v1, v2, v3
• RFC 2598 CoS
• RFC 2618 Authentication RADIUS1
• RFC 2819 RMON v1
• RFC 2865 RADIUS authentication
• RFC 3164 Syslog
• RFC 3195 Syslog
• RFC 3411-17 SNMP
• D-Link Private MIB
• LLDP MIB
• Zone Defense MIB
• 2233 Interface Group MIB
נתונים פיזיים
Physical parameters
• Dimensions 440 x 210 x 44 mm

Weight
• 2,73 kg

Input supply
• 100-240 VAC, 50-60 Hz, internal universal power supply

Max. power consumption
• 43,81 W

Power consumption in standby mode
• 25,22 W

Temperature
• Operating: -5 to 50 ° C
• Storage: -40 to 70 ° C

Humidity
• Operating: 0% to 95% non-condensing
• Storage: 0% to 95% non-condensing

Certifications
• CE
• FCC
• C-Ticket
• VCCI
• BSMI
• CCC

Security
• cUL
• CB
• CE
• CCC
• BSMI