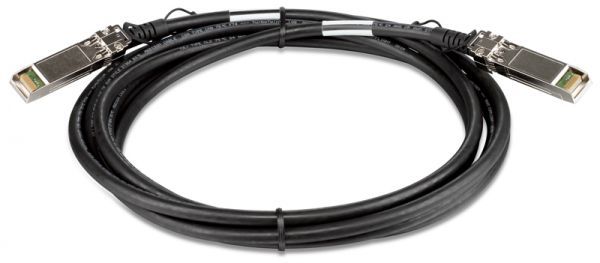 DEM-CB300S
כבל 10G SFP+ לחיבור ישיר באורך 3 מטר
היכן לקנות
תאור
Twinax 10G SFP + passive cable is for connection between a switch with 10G ports, while providing higher data rates than with standard SFP, allowing Ethernet networks only run at speeds up to 2.5 Gb / s. This series of cables, including a model DEM-CB100S, DEM-CB300S, DEM-CB500S and DEM-CB700S, suitable for a very short distance (up to 7 meters) and is a perfect cost-effective solution for connecting switches and servers located in one and the same or adjacent racks.

The ideal solution for high-performance systems
This 10G SFP + cable supports data transfer rates up to 10 Gbit / s, and provides extremely low latency and power consumption, as compared with other types of cables, designed for standards such as 10GBASE-CX4 and 10GBASE-T (Category 6/6a ). Therefore, this cable is the perfect solution, providing high bandwidth over short distances, making it ideal for use, for example, in data centers.

Improved format Small Form-factor Pluggable
Twinax 10G SFP + passive cables D-Link uses an advanced format Small Form-factor Pluggable (SFP +). Form factor SFP + smaller in size than the other form factors, such as Xenpak, X2 and 10G XFP, but provides a lower power dissipation and achieves higher port density to operate the equipment. In spite of the same size, SFP + connectors provide higher data rates than standard ports SFP.

Economy
Viewed 10G SFP + Cable D-Link is equipped on both sides of the connector SFP +, thus eliminating the need for costly transceivers SFP +. Ultimately, the application of the cable is a more economical option than fiber optic cables used with transceivers SFP +.
מאפיינים כללים

נתונים פיזיים