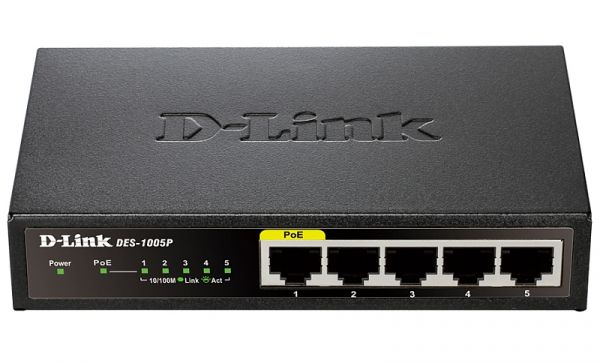 DES-1005P
EOL EOS
מתג שולחני עם 5 פורטים במהירות 10/100Mbps, פורט אחד PoE (מארז מתכת)
היכן לקנות
תאור
Quickly connect to the Internet
5 potrovy Switch D-Link DES-1005P single-port PoE enables users to easily connect and supply power through the Ethernet (PoE) on the device such as a wireless access point (AP), IP-camera, or IP-phone. The switch also allows you to connect additional Ethernet network devices such as computers, printers and network storage (NAS). Designed specifically for home users and small businesses, this compact PoE switch operates almost silently, which allows you to place it in virtually any room or office.
 
Power over Ethernet (PoE)
The first port DES-1005P supports standard IEEE 802.3af PoE. Port PoE provides power capacity of 15.4 W, which allows users to connect to the DES-1005P device compatible with standard 802.3af. This allows you to place the device in remote areas (ceilings, walls, etc.) regardless of the location of power outlets and to minimize cabling.
 
Automatic identification of MDI / MDIX
All ports support auto-polarity of MDI / MDIX. This eliminates the need for crossover cables or ports uplink. Any port can be connected to a server, hub, router or switch using a straight Ethernet-cable to twisted pair.
 
Reduction of energy consumption
5-Port Switch DES-1005P supports D-Link GreenTM, which provides lower power consumption and extending the life of the device without sacrificing performance or functionality of the device. The switch reduces power consumption depending on the connection status and cable length. With the automatic power off when there is no connection ports are saving a significant amount of energy on the inactive port or ports that are connected to the computer is off. Depending on the length of cable is determined automatically by a switch to reduce energy consumption without compromising performance. The use of passive cooling system ensures quiet operation and allows you to extend the life of the device.
מאפיינים כללים
Main functions
• 5-port 10/100 Mbit / s Fast Ethernet
• One port PoE
• Auto MDI / MDIX on all ports
• Switching Method: Store-and-forward
• Ethernet / Fast Ethernet: Full duplex / half duplex
• IEEE 802.3x Flow Control
• Plug-and-play
• Built-in D-Link green
• Compliance with the RoHS Directive
• IEEE 802.1p QoS (4 queues, Strict Mode)
 
Switching matrix
• 1 Gbit / s
 
Standards
• IEEE 802.3 10BASE-T Ethernet
• IEEE 802.3u 100BASE-TX Fast Ethernet
• ANSI / IEEE 802.3 NWay
• IEEE 802.3x Flow Control
• IEEE 802.1p QoS
 
Options, PoE
• IEEE 802.3af
• Provide power to the device: up to 15.4 W
• Maximum fueled power: 15.4 W
• Number of ports PoE / PoE power per port: Tues 1/15.4
 
Data transfer rate
• Ethernet:
 + 10 Mbit / s (half duplex)
 + 20 Mbit / s (full duplex)
• Fast Ethernet:
 100 + Mbit / s (half duplex)
 + 200 Mbps (full duplex)
 
Topology
• Star
 
Media Interface Exchange
• Automatic identification of MDI / MDIX on all ports
 
Network Cables
• 10BASE-T
 + UTP Cat. 3/4/5/5e (100m max.)
 + EIA/TIA-586 100-ohm STP (100 meters max.)
• 100BASE-TX
 + UTP Cat. 5/5e (100m max.)
 + EIA/TIA-568 100-ohm STP (100m max.)
 
Indicators
• Port: Link / Activity / Speed ​​/ PoE Status
• Device: Power / PoE Max
 
Switching Method
• Store-and-forward
 
MAC-address table
• 2K recording device
 
Sstudy of MAC-addresses
• Automatic update
 
Filtration rate / packet
• Ethernet: 14,880 packets per second. to port
• Fast Ethernet: 148,800 packets per second. to port
 
Buffer RAM
• 64 Kbytes on the device
נתונים פיזיים
Power consumption
• Power on. (Standby):
  + Power Input: 0.9 V DC, 1.8 W AC
• Max. (PoE off)
  + Power Input: 2.05 V DC, 2.7 W AC
• Max. (PoE off.)
  + Power Input Voltage: 17.29 V DC, 20.2 Tues AC
 
Power Adapter
• Switching Power Adapter 48 V/0.5 A
 
MTBF
• 324.616 h
 
Operating temperature
• 0 to 40 ˚ C
 
Storage temperature
• -40 To 70 ˚ C
 
Operating humidity
• From 0% to 95% (no condensation)
 
Storage humidity
• From 0% to 95% (no condensation)
 
Dimensions (W x D x H)
• 140 x 85 x 28 mm
 
Certificates
• FCC Class B
• ICES-003 Class B
• cUL