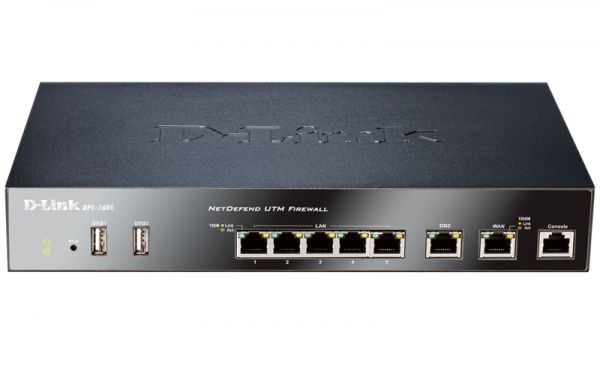 DFL-260E
EOL EOS
Väikestele ettevõtetele sobiv tulemüür
Kust osta
Kirjeldus
Enterprise-Class Firewall Security
NetDefend UTM Firewalls provide complete advanced security features to manage, monitor, and maintain a healthy and secure network. Network management features include: Remote Management, Bandwidth Control Policies, URL Black/White Lists, Access Policies, and SNMP. For network monitoring, these firewalls support e-mail alerts, system logs, consistency checks and real-time statistics.
Unified Threat Management
NetDefend UTM Firewalls integrate an intrusion detection and prevention system, gateway antivirus, and content filtering for superior   Layer 7 content inspection protection. An acceleration engine increases throughput, while the real-time update service keeps the IPS information, antivirus signatures, and URL databases current . Combined, these enhancements help to protect the office network from appl ication exploits, network worms, malicious code attacks, and provide everything a business needs to safely manage employee Internet access.
Powerful VPN Performance
NetDefend UTM Firewalls offer an integrated VPN Client and Server. This allows remote offices to securely connect to a head office or a trusted partner network. Mobile users working from home or remote locations can also safely connect to the office network to access company data and e-mail. NetDefend UTM Firewalls have hardware-based VPN engines to support and manage a large number of VPN configurations. They support IPSec, PPTP, and L2TP protocols in Client/Server mode and can handle pass-through traffic as well. Advanced VPN configuration options include: DES/3DES/
AES/Twofish/Blowfish/CAST-128 encryption, Manual or IKE/ISAKMP key management, Quick/Main/Aggressive Negotiation modes, and VPN authentication support using either an external RADIUS server or a large user database.
UTM Services
Maintaining an effective defense against the various threats originating from the Internet requires that all three databases used by the NetDefend UTM Firewalls are kept up-to-date. In order to provide a robust defense, D-Link offers optional NetDefend Firewall UTM Service subscriptions which include updates for each aspect of defense: Intrusion Prevention Systems (IPS), Antivirus and Web Content Filtering (WCF). NetDefend UTM Subscriptions ensure that each of the firewall's service databases are complete and effective.
Robust Intrusion Prevention
The NetDefend UTM Firewalls employ component-based signatures, a unique IPS technology which recognizes and protects against all varieties of known and unknown attacks. This system can address all critical aspects of an attack or potential attack including payload, NOP sled, infection, and exploits. In terms of signature coverage, the IPS database includes attack information and data from a global attack sensor-grid and exploits collected from public sites such as the National Vulnerability Database and Bugtrax. The NetDefend UTM Firewalls constantly create and optimize NetDefend signatures via the D-Link Auto-Signature Sensor System without overloading existing security appliances. These signatures ensure a high ratio of detection accuracy and a low ratio of false positives.
Stream-Based Virus Scanning
The NetDefend UTM Firewalls examine files of any size, using a stream-based virus scanning technology which eliminates the need to cache incoming files. This zero-cache scanning method not only increases inspection performance but also reduces network bottlenecks. NetDefend UTM firewalls use virus signatures from Kaspersky Labs to provide systems with reliable and accurate antivirus protection, as well as prompt signature updates. Consequentially, viruses and malware can be effectively blocked before they reach the desktops or mobile devices.
Web Content Filtering
Web Content Filtering helps administrators monitor, manage, and control employee Internet usage. The NetDefend UTM Firewalls implement multiple global index servers with millions of URLs and real-time website data to enhance performance capacity and maximize service availability. These firewalls use granular policies and explicit black/white lists to control access to certain types of websites for any combination of users, interfaces and IP networks. The firewall can actively handle Internet content by stripping potential malicious objects, such as Java Applets, JavaScripts/VBScripts, ActiveX objects, and cookies.
NetDefend UTM Subscription
The standard NetDefend UTM Subscription provides your firewall with UTM service updates for 12 months* starting from the day you activate or extend your service. The NetDefend UTM Subscription can be renewed regularly to provide your firewalls with the most up-to-date security service available from D-Link.
NetDefend Center: http://security.dlink.com.tw
Powerful VPN Engine
Hardware-based data encryption and authentication for IPSec, PPTP, and L2TP in Client/Server mode enable fast and safe handling of VPN traffic.
Professional Intrusion Prevention System (IPS)
Automatic updates from a comprehensive IPS signature database focus on attack payloads to protect the network against zero-day attacks.
Real-Time Antivirus Inspection (AV)
The antivirus engine scans using the most complete, most up-to-date antivirus signature database. Streaming-based pattern matching provides the effective protection against viruses.
Fast, Efficient Web Content Filtering
Multiple index server implementation, granular policies, black lists and active content handling enhance performance and effectiveness of web surfing control.
Acceleration Engine for Unified Threat Management
A powerful processor allows the firewall to carry out IPS and Antivirus scanning simultaneously without performance degradation.
Licensed for Unlimited Users
Optional subscription services for IPS, Antivirus Scanning, and Web Content Filtering are priced per firewall rather than per user, thus reducing the total cost of ownership for licensing.
WAN Link Load-Balancing and Fault-Tolerance
Multiple WAN ports support traffic load balancing and failover, thus guaranteeing Internet availability and bandwidth.
Põhiomadused
Liidesed
     - 1-port 10/100/1000 Ethernet WAN
     - 1-port 10/100/1000 Ethernet DMZ (seadistatav)
     - 5-port 10/100/1000 Ethernet LAN
USB: 2 USB porti (reserveeritud)
Konsooliport: RJ-45

Süsteemi jõudlus
Tulemüüri jõudlus: 150 Mbps
VPN jõudlus: 45 Mbps
IPS jõudlus: 60 Mbps
Viirustõrje jõudlus: 35 Mbps
Samaaegseid sessioone: 25000
Uusi sessioone (sekundis): 2000
Reegleid: 500
Tulemüür
Transparent mode
NAT, PAT
H.323 NAT Traversal
Application Layer Gateway
Active Network Security
Võrgu omadused
DHCP server / klient
DHCP Relay
Poliitikapõhine marsruutimine
IEEE 802.1Q VLAN: 8
Pordipõhine VLAN
IP Multicast: IGMP v3
Virtual Private Network (VPN)
Krüpteerimine (DES/3DES/AES/Twofish / Blowfish / CAST-128)
Dedicated VPN-tunnels: 100
Server PPTP/L2TP
Hub and spoke
IPSec NAT Travesal
SSL VPN (funktsioon on saadaval tulevastes tarkvara versioonides)
Load Balancing
Väljamineva liikluse balansseerimine
Serverite koormuse balansseerimise algoritm: Round-robin, Weight-based Round-robin, Destination-based spill-over
Traffic Redirect (fail-over)
Bandwidth Management
Poliitikatel põhinev Traffic Shaping
Garanteeritud ribalaius
Maksimaalne ribalaius
Prioritiseerimisel põhineb ribalaius
Ribalaiuse dünaamiline jaotamine
High Availability (HA)
Intrusion Detection & Prevention System (IDP/IPS)
Automatic Pattern Update
DoS, DDoS rünnete vastane kaitse
Attack Alarm via e-mail
Advanced IDP/IPS Subscription
Content Filtering
HTTP Type: URL Blacklist/Whitelist
Script Type: Java, Cookie, ActiveX, VB
E-mail Type: E-mail Blacklist/Whitelist
External Database Content Filtering
Antivirus
Real Time AV Scanning
Unlimited File Size
Scans VPN Tunnels
Supports Compressed Files
Signature Licensor: Kaspersky
Automatic Pattern Update
Füüsilised parameetrid
Toide
Sisemine toiteallikas
Mõõtmed
280 x 180 x 44 mm
Rackmount Chassis 11''
Töötemperatuur
0 º - 40 º C
Säilitustemperatuur
-20 º - 70 º C
Tööniiskus
5% - 95% mittekondenseeruv
EMI
FCC Class
CE Class
C-Tick
VCCI
Ohutus
UL LVD (EN60950-1)
MTBF
186,614 h