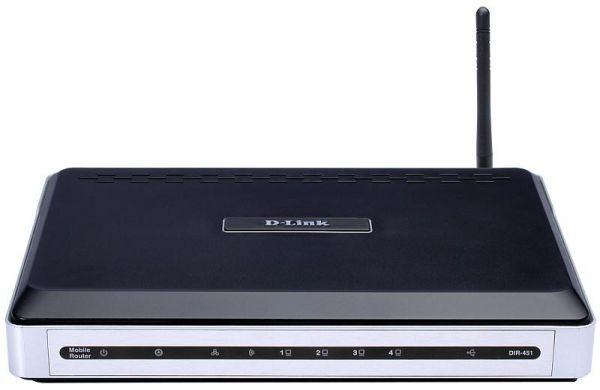 DIR-451
EOL EOS
Mobiilne ruuter 3G ja WiFi toetusega UMTS ja HSDPA võrkudele
Kust osta
Kirjeldus
Plug in Your UMTS or HSDPA Internet Card to Share Online Access
Works Virtually Anywhere UMTS/HSDPA Cellular Service is Available
Create a Wireless Network - Check E-mail, Go Online, and Share Files
Product Description
WIRELESS NETWORKING ON-THE-GO
The D-Link 3G Mobile Router DIR-451 answers mobile users' need for setting up a wireless network on-the-go to share an Internet connection. The 3G Mobile Router DIR-451 enables users to quickly create a secure wireless 802.11g (108G) network and provide access to the Internet using a cellular signal*. By connecting an UMTS, or HSDPA Internet PC card to the 3G Mobile Router, an Internet connection can be accessed and shared virtually anywhere within a wireless broadband network*.
ADVANCED NETWORK SECURITY
The 3G Mobile Router creates a secure Wi-Fi® network by supporting the latest wireless security features to prevent unauthorized access. Support for WEP, WPA, and WPA2 ensure that you will be able to secure your Wi-Fi network, regardless of your client devices. In addition, the 3G Mobile Router utilizes dual active firewalls (SPI and NAT) to prevent potential attacks from across the Internet.

EASY TO INSTALL AND USE
The D-Link 3G Mobile Router sets up in minutes, making it easy to use while on–the-go. Remaining backward compatible with 802.11b devices, this router ensures that it will work with legacy wireless equipment you already own. This eliminates incurring additional expenses associated with upgrading your current wireless equipment. You can also directly connect Ethernet-based devices to its built-in 4-port full-duplex 10/100 switch.

Set up a wireless network with the D-Link 3G Mobile Router DIR-451 and provide your users with a secure, high-speed connection to the Internet anytime, anywhere*.

TYPICAL APPLICATIONS
Access Private Networks
With the 3G Mobile Router, government employees or corporate users can create a wireless network and provide colleagues with remote access to their secure private networks. It is ideal for off-site situations, such as crime scenes, where sharing information is critical.
Special Events
Share the Internet while working at special events. Whether you are at an industry convention, off-site meeting, sporting event, or backstage at a concert, the 3G Mobile Router can keep your personnel and guests in touch with the world.
Internet Access for Commuters
By installing the 3G Mobile Router on a bus, train, or even a boat, you can allow passengers to check e-mail or chat online while commuting. Enhance their experience and increase the value of your offered services with the 3G Mobile Router.
Emergency Response
Whether you are providing relief for a natural disaster or coordinating the rescue of a lost hiker, you can quickly set up a wireless network and allow your team members to access e-mail, go online, and share important files.
For The Road
The 3G Mobile Router lets you share a mobile Internet connection with your group when you are on-the-go for work or play. Stay on top of e-mails, chat with friends and family, get directions, read news, download music, or shop online.
Fixed Broadband Solution
The 3G Mobile Router can be used as a fixed broadband Internet solution in homes or offices that do not have a cable or DSL service available, but are within a compatible mobile wireless network. Conversely, if you are already subscribing to a mobile Internet service, you can simply use the 3G Mobile Router in your home instead of paying extra for a wired high-speed Internet connection.
* Requires third party mobile Internet access subscription. Check with your service provider for service coverage and applicable fees. D-Link
Põhiomadused
Mobiilvõrkude ühilduvus
UMTS/HSDPA

Ühilduvad adapterid
UMTS
Option Wireless 3G+ / Fusion+
Option Wireless GT Fusion
Option Wireless GT 3G Quad
Option Wireless GT Quad
Sierra Wireless AirCard 860
Sierra Wireless AirCard 875
Novatel Wireless Merlin U530
Novatel Wireless Merlin U730
ZTE MF320
Huawei E612
Huawei E600

HSDPA
Option GT MAX 7.2 GX201
Option GT 3G+
Option GI 0201
Option GX 0201
Sierra Wireelss AirCard 850
Sierra Wireelss AirCard 860
Novatel Wireless Merlin U730
Novatel Wireless Merlin U740
Novatel Merlin XU870
HSDPA USB Module
T-Mobile Globe Trotter 3G MAX
Huawei E220 (USB)
Huawei E620
Huawei E630
Bandlux C100
Vodafone GT MAX GX0201
Vodadone Qualcomm 3G
Sierra Wireless AirCard 865
Sierra Wireelss AirCard 875 

Standardid
IEEE 802.11g/802.11b/802.3/802.3u 

Turvalisus
64/128-bit WEP (Wired Equivalent Privacy)
WPA™ & WPA2™ (Wi-Fi Protected Access) 

Laiendatud tulemüüri funktsioonid 
Network Address Translation (NAT)
Stateful Packet Inspection (SPI)
VPN Pass-through 

Ligipääsu juhtimine 
CSMA/CA koos ACK

Juhtimine
Internet Explorer v.6 või kõrgem, Mozilla Firefox v.1.5 või kõrgem, või teistsugune veebilehitseja Java toetusega

Indikaatorid
Power
Status
WAN (Mobiilne Internet ühendus)
WLAN (Traadita ühendus)
LAN (10/100) 

Sertifikaadid
FCC Class B
CE 
Minimaalsed nõuded süsteemile 
Mobiilinterneti teenustega ühendus, arvuti adapter 
Arvuti:
Windows® XP SP2, 2000 SP4, Vista või Mac OS® X (v10.4/v10.3) 3
Internet Explorer 6 või Mozilla Firefox 1.5
CD-ROM seade

Pakendi sisu
Mobiilne ruuter 3G toetusega DIR-451
Ethernet Cat5 kaabel
Toiteadapter 
Kinnitused ja alus
Kiirpaigaldusjuhend 
CD-plaat toote kirjeldusega 

D-Link ei garanteeri ruuteri ühilduvust kõikide HSDPA ja UMTS adapteritega.


Füüsilised parameetrid
Töötemperatuur
0°C kuni 55°C

Niiskus
Maksimum 95% 

Mõõtmed
116.8 x 193 x 30.5 mm 

Kaal
317.5 g