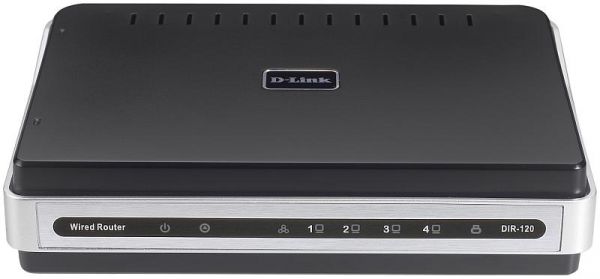 DIR-120
EOL EOS
4-pordine ruuter USB printserveriga
Kust osta
Kirjeldus
High Performance
The D-Link DIR-120 broadband router is designed to let a group of users share a broadband Internet connection through a DSL or cable modem. It integrates USB printer sharing with 4 LAN ports. The built-in USB and 10/100Mbps ports provide ready connection for the workgroup through the Ethernet network cables,while saving users the cost and trouble of installing a separate print server and Ethernet switch. Easy to set up and operate, this router is ideal for users to create their first home or office networks, as well as for more advanced users looking for additional features.

Quality Of Service (QoS)
The DIR-120 provides prioritized transmission and reception of VoIP and on-line packets to/from the Internet to enable a group of users to experience the benefit of smooth network connection of inbound and outbound data without concern of traffic congestion. This QoS support allows users to enjoy high broadband transmission for applications such as Internet phones, multimedia and games over the Internet.

Total Network Security
The DIR-120 provides firewall protection for the network from Internet virus attacks. For access control, it filters packets based on source/destination MAC addresses. With Port Forwarding, the router can be set up to allow separate FTP, and multiple games to share the same Internet-visible IP address while still protecting servers and workstations from hackers. To set up a home or office web site and allow outsiders to access it, users can configure any of the built-in LAN ports to function as a DMZ port. Using Web site filtering, parents and network administrators can block undesired web sites while retaining the ability to control the schedule of Internet logins.

What This Product Does
Connect the DIR-120 Ethernet Router to a cable or DSL modem and share high-speed Internet connection and a USB printer* with multiple computers at home or the office. This router creates a high-speed and completely secure network to share photos, files, music, video, printers*, storage, and to make Internet phone calls and play on-line games.

Whole Home/Office Coverage
The DIR-120 is designed for easy and robust connectivity among heterogeneous standards-based network devices. Computers can communicate directly with this router for automatic opening and closing of UDP/TCP ports to take full advantage of the security provided without sacrificing functionality of on-line applications.

* Host-based printers are not supported. Please check with the printer manufacturer if your printer model is host-based (GDI). Multifunctional printers can only share printing function on a network.
Põhiomadused

Füüsilised parameetrid

Sidustooted
DIR-120  4-pordine 10-100 Mbit/s ruuter USB printserveriga