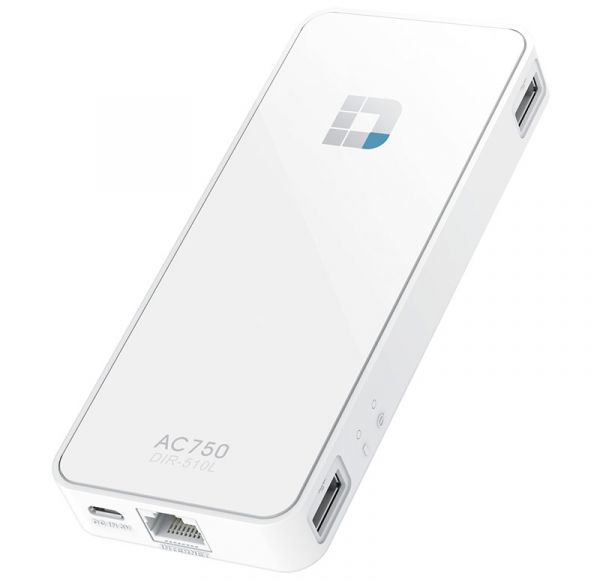 DIR-510L
EOL EOS
Kaasaskantav AC-standardiga ruuter DIR-510L
Kust osta
Kirjeldus
Connect, share and charge your mobile devices anytime, anywhere, with D-Link's DIR-510L WiFi AC750 Portable Router and Charger. Share files, stream media and browse the Internet with the reliability and performance provided by Next-Generation Wireless AC technology. Simply connect your laptop, smartphone, or tablet to the DIR-510L's wireless network and it will take care of the rest. A built-in, high-capacity rechargeable battery, allows for on-the-go charging of all your mobile devices.
Wireless AC for Next-Generation Mobile Performance
The DIR-510L incorporates the latest Wireless AC750 technology for unprecedented range and data transfer performance to and from compatible Wi-Fi devices. Using dual-band technology to alleviate channel congestion and reduce potential signal interference, the DIR-510L is capable of delivering a combined bandwidth of 750Mbps (300Mbps-2.4Ghz/433Mbps-5Ghz) using the 2.4GHz and 5GHz bands. For added convenience, Guest Zone control allows visitors to use your Internet connection while restricting them from the rest of your personal network. Universal Plug and Play (uPnP) and a built-in DLNA server, enables you to stream your multimedia collection smoothly and securely across all your devices such as smart TVs, game consoles and media PCs.
mydlink SharePort™ – Share On the Go
Sharing audio, videos and photos is a breeze with the DIR-510L. The mydlink SharePort and SharePort Mobile apps for mobile devices enables you to upload, download and stream multimedia and documents. Simply download the app, register for a free mydlink account, attach a USB drive to your DIR-510L and access your content from any avilable internet connection.
Your Mobile Power Station
The DIR-510L's built-in high-capacity 4000mAh rechargeable battery not only powers the device itself, it also keeps your gadgets charged and ready to go. The device provides two USB ports so you can charge a device and share files from a USB drive at the same time. You no longer have to worry about your smartphone's battery running out of juice while on-the-go. Simply connect your smartphone or high-power devices like iPads to the USB port to start charging anywhere, anytime.
Easy to Set Up, Easy to Use
The DIR-510L includes a user-friendly interface that stores your connection details for you so you only have to enter them once. Whether you're connected via your 3G/4G adapter for mobile Internet or to the Wi-Fi hotspot of your favorite café, the DIR-510L helps you keep all of your devices connected, automatically.
Põhiomadused
Füüsilised parameetrid
Mõõdud
140 x 59 x 16 mm
Kaal
154 gr
Toide
• Sisseehitatud liitiumioonaku 4000 mА/h
• Sisend: Maksimaalselt 5V/1,8A (standard adapter);
• Väljund:  5V/1A (USB-port, tüüp A), 5V/0,5A ((USB-port, tüüp A)
Temperatuurid
• Töö: 0 kuni 40°С
• Säilitamine: -10 kuni 45°С
Niiskus
• Töö: 10 kuni 75%, kondensaadita
• Säilitamine: 5 kuni 75%, kondensaadita
Sertifikaadid
• FCC
• CE
• IC
• C-Tick
• NCC
• cUL 
• LVD 
• BSMI