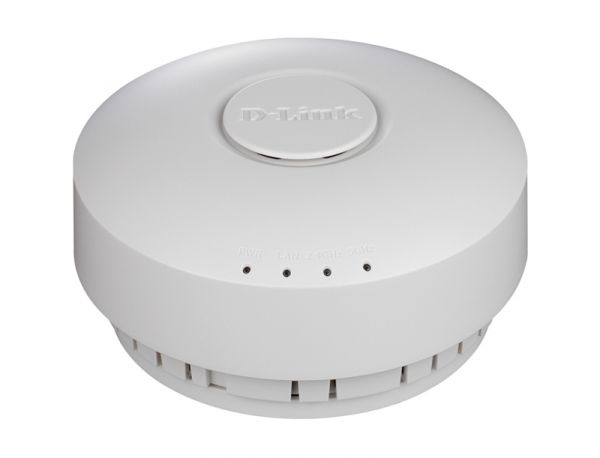 DWL-6600AP
EOL EOS
PoE-ga traadita pääsupunkt 802.11n, kuni 300 Mbit/s
Kust osta
Kirjeldus
DWL-6600AP - Universal Dual Band 802.11n Access Point with PoE for indoor use is designed for deployment in business class. Flexible in managing and supporting data transfer at high speeds, this Access Point provides easy integration into existing network infrastructure, which can be further expanded. The access point can be made in case a class Plenum (DWL-6600AP/A1A) or plain plastic case (DWL-6600AP/A1A/PC).
High performance
DWL-6600AP provides data transfers at speeds up to 300 Mbit / s at a frequency of 2.4 GHz or 5GHz. Supports Wi-Fi Multimedia ™ (WMM) makes an ideal access point for audio, video and voice applications. In addition, the load-balancing for maximum performance and excellent quality of service in wireless network.
Automatic cluster configuration
For small businesses that require multiple access points (APs) and that lack of resources, auto-configuration of the cluster is an ideal solution. When installing a small number of access points DWL-3600AP can perform automatic configuration of the cluster. After completing an administrator configure a single point of access, the same settings will be applied to other access points. Thus, the cluster can combine up to 16 access points.
Unified management
DWL-6600AP can operate in conjunction with the wireless switch and controller, D-Link. In this mode, several points of the DWL-6600 can be connected directly or indirectly to one of the switches / controllers to ensure a high level of security and wireless mobility for wireless clients.
Each DWL-6600AP is set to the switches that provide the necessary wireless signals in both 2.4GHz and 5.0GGts frequencies for optimization of RF channels and power for all mobile customers.
Security
DWL-6600AP supports the latest standards for safety of Wi-Fi, including WEP, WPA, WPA2, and 802.1X. In addition, DWL-6600AP supports up to 16 virtual access points (VAP) or up to 32 in total), which allows the administrator to assign different access rights for different user groups. If you have enabled "Insulation Station", the AP will block the transmission of data between the wireless clients connected to a wireless network in the same radio frequency. Through the use of standardized wireless D-Link switches can increase the level of security. You can easily detect unauthorized network access point, so the administrator can prevent immediate danger.
Easy to install
With built-in antenna and stylish design, DWL-6600AP can be mounted on a wall or ceiling, and the device fits into the interior of most offices. Access Point DWL-6600AP is enclosed in a housing with ventilation in accordance with the rules of fire safety. This high-speed access point supports standard 802.3af Power over Ethernet (PoE), which allows you to install this device, even in areas where power outlets are not available.
Põhiomadused
System
• Wireless Interface: 802.11b/g/n (2,4 / 5 GHz)
• Interface LAN: 10/10/100 Gigabit Ethernet
• Console: RJ-45
• Antenna: Built-in 2x2 MIMO antenna with external antenna connectors 4
• Antenna Gain: 4,7 dBi
• Supply: IEEE 802.3af Power Over Ethernet or external power adapter
Frequency
• 802.11n: 2,4 GHz - 2.497 GHz and 4.9 GHz - 5.85 GHz
• 802.11b / g: 2,4 GHz - 2.485 GHz
Data transfer rate
• 802.11n
  6.5 Mbit / s - 130 Mbit / s (20 MHz)
  6.5 MHz - 300 Mbit / s (40 Mbit / s)
• 802.11b: 11, 5.5, 2 and 1 Mbit / s
Transmitter output power
• 802.11b: 13 (+ / -2) dBm at 11,5.5, 2 and 1 Mbit / s
• 802.11n (2,4 GGts/HT-20): 11 dBm at MCS0 / 8, MCS1 / 9, MCS2/10, MCS3/11, MCS4/12, MCS5/13, MCS6/14, MCS7/15
• 802.11n (2,4 GGts/HT-40): 11 dBm at MCS0 / 8, MCS1 / 9, MCS2/10, MCS3/11, MCS4/12, MCS5/13, MCS6/14, MCS7/15
• 802.11n (5 GGts/HT-20): 11 dBm at MCS0 / 8, MCS1 / 9, MCS2/10, MCS3/11, MCS4/12, MCS5/13, MCS6/14, MCS7/15
• 802.11n (5,0 GGts/HT-40): 11 dBm at MCS0 / 8, MCS1 / 9, MCS2/10, MCS3/11, MCS4/12, MCS5/13, MCS6/14, MCS7/15
Receiver Sensitivity
• 802.11b
  -92 (+ / -2) DBm at 1 Mb / s
  -90 (+ / -2) DBm at 2 Mbit / s
  -88 (+ / -2) DBm at 5.5 Mbit / s
  -85 (+ / -2) DBm at 11 Mbit / s
• 802.11g
  -87 (+ / -2) DBm at 6 Mbit / s
  -87 (+ / -2) DBm at 9 Mbit / s
  -85 (+ / -2) DBm at 12 Mbit / s
  -82 (+ / -2) DBm at 18 Mbit / s
  -79 (+ / -2) DBm at 24 Mbit / s
  -76 (+ / -2) DBm at 36 Mbit / s
  -71 (+ / -2) DBm at 48 Mbit / s
  -67 (+ / -2) DBm at 54 Mbit / s
• 802.11n
 2.4 GGts/HT-20
  - 85dBm at MCS0 / 8
  - 82dBm at MCS1 / 9
  - 80dBm at MCS2/10
  - 77dBm at MCS3/11
  - 74dBm at MCS4/12
  - 69dBm at MCS5/13
  - 68dBm at MCS6/14
  - 65dBm at MCS7/15
 2.4 GGts/HT-40
  -82 DBm at MCS0 / 8
  -79 DBm at MCS1 / 9
  -77 DBm at MCS2/10
  -74 DBm at MCS3/11
  -71 DBm at MCS4/12
  -66 DBm at MCS5/13
  -65 DBm at MCS6/14
  -62 DBm at MCS7/15
 5.0 GGts/HT-20
  - 85dBm at MCS0 / 8
  - 79dBm at MCS1 / 9
  - 77dBm at MCS2/10
  - 74dBm at MCS3/11
  - 70dBm at MCS4/12
  - 66dBm at MCS5/13
  - 65dBm at MCS6/14
  - 64dBm at MCS7/15
5.0 GGts/HT-40
  -79 DBm at MCS0 / 8
  -76 DBm at MCS1 / 9
  -74 DBm at MCS2/10
  -71 DBm at MCS3/11
  -67 DBm at MCS4/12
  -64 DBm at MCS5/13
  -63 DBm at MCS6/14
  -62 DBm at MCS7/15
Security
• SSID:
  + 16 SSID, SSID 32 to the access point
  + Isolation of Station
• Security: WEP, Dynamic WEP, WPA Personal / Enterprise, WPA2 Personal / Enterprise
• Detection and Prevention: Classification of access points to the unauthorized and authorized
• Authentication: Filtering by MAC-addresses, 802.1x
System control
• Web-User Interface: HTTP / HTTPS
• Command line: SNMP, SSH, Telnet
Füüsilised parameetrid
Power
• Power adapter: 12V / 1A
• Power over Ethernet: 48 VDC + / - 10%
Type of housing
• Plastic housing or housing class Plenum
Body size
• 77,5 x 156 mm
Weight
• 0.5 kg
Operating temperature
• From 0 ˚ to 40 ˚ C
Operating Humidity
• From 10% to 90% noncondensing
Security
• cUL, LVD (EN60950-1), UL20432
Certificates of EMI / EMC / RF
• FCC Class B, CE Class B, C-tick, IC, VCCI, NCC, TELEC, Wi-Fi ®