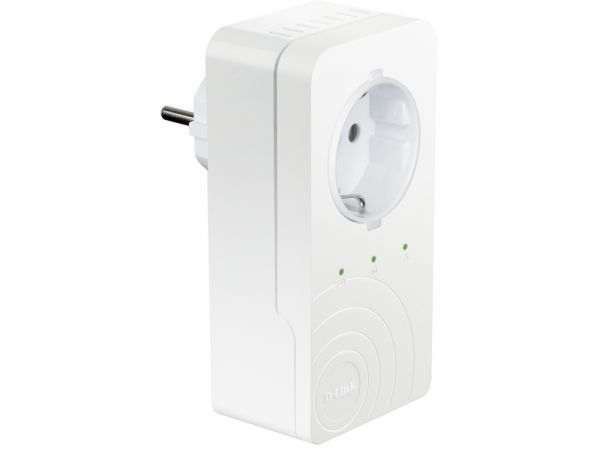 DHP-P338AV
EOL
Powerline AV + adapter DHP-P338AV 3 pordi ja sisseehitatud elektripistikuga (passthrough)
Kust osta
Kirjeldus
Adapter Powerline AV + DHP-P338AV with 3 ports and built-in electrical socket «passthrough» corresponds to the HomePlug AV standard and uses the existing home electrical wiring to create a network or extend an existing network1. This adapter is connected to a power outlet, allows access to digital media devices, game consoles, print servers, computers and network storage devices anywhere in your home.
Ideal solution for applications that require high bandwidth
Powerline AV + technology delivers data transfer rates up to 500 Mbit / s, ie, at a higher speed compared to conventional devices Powerline AV. Thanks to this device is the ideal solution for applications that require high bandwidth, which provide streaming HD-video, work VoIP-telephony and online gaming without delay. DHP-P338AV enables connection of up to three Ethernet-devices. The adapter also provides a mechanism to QoS (Quality of Service)-based ports used to prioritize traffic that is sent through each Ethernet-port.
Easy installation and safety
DHP-P338AV plugs directly into a power outlet. Adapter DHP-P338AV a built-in socket «passthrough», through which a main outlet can be connected to other electrical devices. Expand your home network by connecting multiple devices from the most distant points of the house, or create additional connection by connecting a switch or wireless access point to the adapter. For ease of installation, you can configure the encryption key at the touch of a button. The adapter supports 128-bit AES encryption to protect your network from unauthorized connection to the line. With simple installation Plug-and-Play, DHP-P338AV adapter is the perfect solution to create a home network.
Power save function
DHP-P338AV supports power saving mode in accordance with the European Directive on the use of energy-using products (EuP). If within a period of time not being transmitted or received, the adapter automatically switches to standby mode, reducing power consumption by more than 70%, and providing automatic energy savings without sacrificing performance.
Additional power socket
Built-in socket adapter housing allows you to connect to the main power outlet other devices, the adapter filters out electrical noise from the connected device, which may affect the Powerline-connection.
Põhiomadused
Powerline interface
• Power connector (depending on country)
Ethernet Interface
• 3 10/100BASE-TX Ethernet port with automatic polarity MDI / MDIX
• RJ-45 connector
Standards
• IEEE 802.3
• IEEE 802.3u
• HomePlug AV
• IEEE 1901
Safety
• 128-bit AES data encryption
Indicators
• Power
• Ethernet
• Powerline
Modulation scheme Powerline
• Symbol OFDM modulation
Bandwidth Powerline
• from 2 MHz to 68 MHz
Data rate
• Powerline: 500 Mbit / s (physical rate)
• Ethernet: 10/100 Mbit / s
Füüsilised parameetrid
Measurements
• 120,4 x 59,2 x 42,35 mm
Weight
• 212 g
Power Input
• 100-250 VAC, 50/60 Hz 16A
Output Power (built-in socket)
• Maximum 250 V AC / 16 A
Temperature
• Operating: 0 to 40 C
• Storage: -20 to 65 C
Humidity
• Operating: 10% to 90% (non-condensing)
• Storage: 5% to 95% (non-condensing)
Certifications
• CE
• FCC
• CE / LVD
• UL