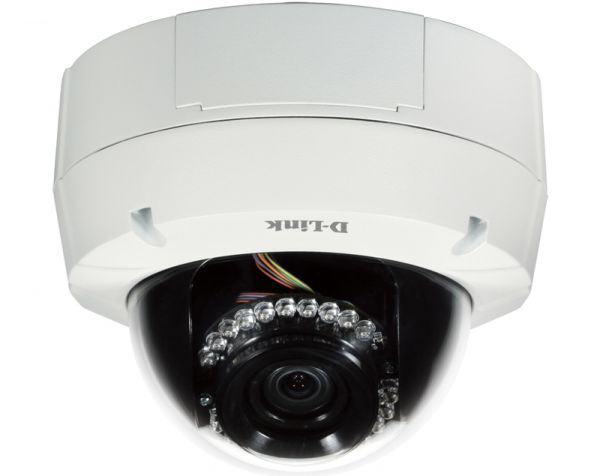 DCS-6513
EOL
Väline kuppelkaamera, Full HD, WDR
Kust osta
Kirjeldus
External Fixed Dome Full HD IP-camera with WDR sensor and the possibility of night shooting DCS-6513 is the ideal solution for creating a system of professional high-definition video, and security of small, medium and large enterprises. The camera is equipped with a highly sensitiveCMOS-sensor with progressive scan and motorized lens P-Iris, and also supports WDR, which allows to obtain excellent image quality in all conditions. With its robust design, "all in one" camera ideally suited to the surveillance system and does not require additional equipment to be installed.
High Quality Video
Camera DCS-6513 is equipped with a P-Iris, controlled with high precision. Integrated stepper motor mechanism provides optimum lens performance in all conditions, which is reflected in the excellent image quality, sharpness and depth of field. Thus, it is possible at any moment to see the detailed image in the viewing area. The remote focus eliminates the need for manually focusing camera location and allows control from anywhere. To maximize bandwidth efficiency and higher image quality, DCS-6513 compresses the video in real time using the codec H.264, MPEG-4, MJPEG, and supports three separate profile for the simultaneous transmission of video and recording. This property provides a wide range of applications for security cameras, such as monitoring public places to detect misconduct and coordinate the response, control of restricted areas, deterring criminal activity or surveillance assets. In addition, the bandwidth requirements can be adjusted according to the network in real time, and keep a record - on a Network Attached Storage (NAS) or card Micro SD.
Continuous surveillance
Video Camera DCS-6513 with the WDR sensor delivers excellent image quality but with uneven lighting that allows the identification of the subject lit from behind, or shooting in very bright light. In low light conditions ICR-filter automatically moves aside to receive a wide range of light including IR light. Also, the camera DCS-6513 is equipped with a built-in infrared LEDs that allow the camera to observe, even in complete darkness up to 20 meters The combination of these features makes the DCS-6513 an ideal solution for day and night surveillance.
Reliable management software
As with the camera DCS-6513 includes D-ViewCam - software for video surveillance systems, allowing you to view images, manage, and to record up to 32 cameras on a single computer. In addition, you can enable email alerts when motion is detected or when the signal on the digital input.
Connection flexibility
Camera DCS-6513 is equipped with built-in PoE standard 802.3af, simplifying installation by the power supply and connect to the network using a single Ethernet-cable. With this method of connection, there is no need to drill holes and run additional cables. In addition, the digital inputs and outputs allow you to connect external devices such as IR sensors, switches and alarm relays.
Põhiomadused
The exceptional quality of the video
• 1/2 ,8-inch trehmegapikselnoy CMOS-sensor with progressive scan
• motorized varifocal lens with focal lengths from 3 to 9 mm
• Full HD resolution of 1920 x 1080 and up to 3 mega pixels with a resolution of 2048 x 1536
• P-Iris technology delivers superior image quality
• WDR technology provides improved image quality
• codec support H.264, MPEG-4, MJPEG for streaming and recording
External installation
• Built-in IR LEDs (20 m) for video surveillance in the dark
• Built-in heater and fan provide camera operation at temperatures from -40 °  to 50 °  C
• A number of options for mounting the camera
• Weatherproof (standard IP-67) and anti-vandal (standard IK-10) body
• Protective cover
Flexibility
• Card slot MicroSD / SDHC
• Port 10/100 Fast Ethernet with support for PoE, providing easy integration into network
• Digital input and output for connection to external sensors and devices
• The audio input and audio output to connect a microphone and speaker for two-way audio transmission
Hardware profile camera
• 1/2 ,8-inch trehmegapikselnoy CMOS-sensor with progressive scan
• The distance infrared illumination: 20 m
• Minimum illumination: 0.5 Lux / F1.2 (color), 0.05 lux / F1.2 (B & W), 0 lux (black-and-white mode with infrared illumination)
• Built-in ICR-filter
• 10x digital zoom
• motorized varifocal lens with focal lengths from 3 to 9 mm
• The aperture of F1.2
• Viewing angle (16:9):
  + 96.4 °  ~ 31.6 °  (horizontal)
  + 51.2 °  ~ 17.7 °  (vertical)
  + 114.1 °  ~ 36.3 °  (diagonal)
The camera body
• Weatherproof (standard IP-67) and anti-vandal (standard IK-10) body
• Protective cover
Image characteristics
• Setting the image size and quality, frame rate and bit rate
• The timings and paste text
• Customizable windows for motion detection
• Customizable zone private masks
• Set the shutter speed, brightness, color saturation, contrast, sharpness, zoom, focus and aperture
Video Compression
• Compression formats H.264/MPEG-4/MJPEG
• H.264/MPEG-4 multicast broadcasting
• JPEG for still images
Video Resolution
• 4:3 (up to 15 frames / s)
  + 2048 x 1536
• 4:3 (up to 30 frames / s)
  + 1600 x 1200
  + 1024 x 768
  + 800 x 600
  + 640 x 480
  + 480 x 360
  + 320 x 240
  + 176 x 144
• 16:9 (30 frames / s)
  + 1920 x 1080
  + 1280 x 720
  + 800 x 450
  + 640 x 360
  + 480 x 270
  + 320 x 176
  + 176 x 144
Audio Support
• G.726
• G.711
Interfaces to external devices
• Port 10/100 BASE-TX Fast Ethernet with PoE
• 1 DI / 1 DO
• The connector 12 VDC, 100 mA
• MicroSD / SDHC
• Audio In / Audio Out
Network Protocols
• IPv6
• IPv4
• TCP / IP
• UDP
• ICMP
• DHCP-Client
• NTP-Client (D-Link)
• DNS-client
• DDNS-Client (D-Link)
• SMTP-client
• FTP-client
• HTTP / HTTPS
• Samba-client
• PPPoE
• UPnP port forwarding
• RTP / RTSP / RTCP
• Filtering IP-addresses
• QoS
• CoS
• Multicast
• IGMP
• ONVIF
Safety
• Security administrator account and user groups
• Password authentication
• Encryption HTTP and RTSP
System requirements for Web-based interface
Web-browser: Internet Explorer version 7 or higher, Firefox version 1.5 or above, another Java-enabled browser
Event Management
• Motion detection
• Event notification and download stop-kadrov/videoklipov via email or FTP
• Support for multiple SMTP servers, and FTP
• Multiple event notifications
• Several ways to create backups
Remote management
• Create still-images/videoclips and save to a local hard drive or NAS via Web-browser
• Interface settings, available through the Web-browser
Remote management
• Create still-images/videoclips and save to a local hard drive or NAS via Web-browser
• Interface settings, available through the Web-browser
OS Support
Windows 8, 7, Vista, 2000 or XP
System Requirements D-ViewCam ™
• Operating System: Microsoft Windows 8/7/Vista/XP
• Web-browser: Internet Explorer 7 or above
• Protocol: Standard TCP / IP
The software features D-ViewCam ™
• Remote management / control of up to 32 cameras
• Viewing images on a single screen: up to 32 cameras
• Recording Options for triggering a sensor or manually
• Supports all management functions available through the Web-based interface
Füüsilised parameetrid
Weight
1.53 kg (with protective cap)
Nutrition
Power supply unit
• Input: 100-240 VAC, 50/60 Hz
• Output: 12 V DC, 1.25 A
Power over Ethernet cable (technology PoE)
Power consumption
10.5 W ± 5%
Temperature
• Operating: -40 °  to 50 °  C
• Storage: -20 °  to 70 °  C
Humidity
• Operating: 20% to 80% (non-condensing)
• Storage: 5% to 95% (non-condensing)
Certifications
• CE
• CE LVD
• FCC
• C-Tick
Measurements