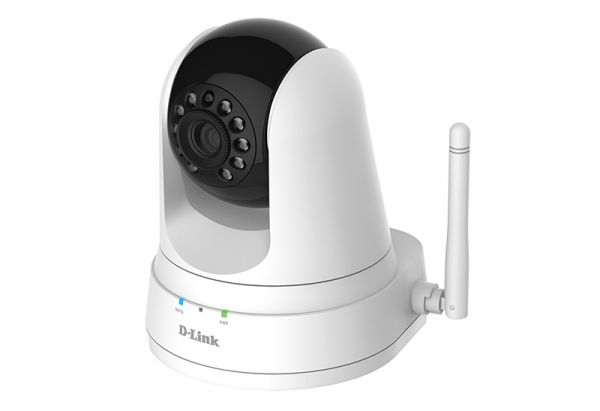 Apraksts
The DCS-5000L Pan & Tilt Wi-Fi Day/Night Camera provides a range of features to help you effectively monitor large areas of your home or small office at all hours of the day. The pan/tilt function allows the camera to patrol a wide area, while the built-in IR LEDs provide around the clock surveillance regardless of the lighting conditions. Wireless connectivity means there is no need for additional cabling, allowing for flexible placement and hassle-free installation.
Peace of Mind With 24/7 Monitoring of Any Environment
The DCS-5000L is a standalone surveillance camera that requires no special hardware or software, and can run independently even without a PC. Send e-mail notifications with snapshots or video clips whenever motion is detected using just the DCS-5000L and an Internet connection. You can customize areas of the video image to monitor for motion, allowing you to effectively monitor areas such as entryways or restricted-traffic areas. Night time monitoring is also possible thanks to built-in infrared LEDs which allow for night time viewing of up to 26 feet (8 meters), enabling round-the-clock monitoring of your home or small office.
Instant Access Anywhere with mydlink Cloud Service
Enhanced with mydlink™ support, the DCS-5000L makes it easier and more convenient for you to keep an eye on your family, home or office, no matter where you are. You can view your camera's live video through the mydlink website and through a free downloadable mydlink app for your iOS or Android mobile device. With the mydlink app, you can quickly and easily view your camera feed from anywhere using a Wi-Fi or 3G/4G connection.
Sharp Image Monitoring from Different Angles
By providing you with sharp, responsive pan/tilt movement and digital zoom, the Pan & Tilt Wi-Fi Day/Night Camera gives you full control over your surveillance. You can quickly scan a wide area from a variety of angles, and 4x digital zoom lets you zoom in on specific areas for more detail. The DCS-5000L can also be set to move to specific preset positions, allowing the camera to focus on particular areas of interest within the surveillance area.
Increased Range with Wireless N Technology
Place the DCS-5000L anywhere in your home or small office thanks to the latest Wireless N technology, which increases range, speed, and reliability of wireless networks. Install the DCS-5000L anywhere within range of your existing wireless network, without the need for additional network cabling. Wireless networking also gives you the flexibility to move the camera from place to place should your surveillance requirements change.
Īpašības
Camera Hardware Profile
• 1/5" VGA progressive CMOS sensor
• 8 meter IR illumination distance
• Minimum illumination: 0 lux with IR LEDs on
• Built-in Infrared-Cut Removable (ICR) Filter module
• 4X digital zoom
• Lens: Fixed length 2.2 mm
• Aperture: F2.4
• Angle of view:
(H) 57°
(V) 42°
(D) 68°
• Exposure Time: 1/15 to 1/15000 sec.
• Built-in microphone
Image Features
• Configurable image size, quality, frame rate, and bit rate
• Time stamp and text overlays
• Configurable motion detection windows
• Adjustable brightness, saturation, contrast
• Flip & mirror
• Pre-event snapshot/recording
Video Compression
• MJPEG multi-streaming
• JPEG for still images
Video Resolution
• 640 x 480 at frame rates up to 15 fps; 320 x 240, 160 x 112 at frame rates up to 30 fps
• JPEG Quality: Very Low, Low, Medium, High, Very High
Video Features
• AGC
• AWB
• AES
Audio Compression
• PCM
Connectivity
• 10/100 BASE-T Ethernet port
• 802.11n/g/b wireless
Pan Range
• -170° to +170° (total 340°)
Tilt Range
• -25° to +95° (total 120°)
Angular Velocity
• 16° per second
Step Setting
• Pan 1°/2°/3°/4°/5°(default)/10°/15°/20°/25°/30°/per click
• Tilt: 1°/2°/3°/4°/5°(default)/10°/15°/20°/25°/30°/per click
Network Protocols
• IPV4, ARP, TCP, UDP, ICMP
• DHCP Client
• NTP Client (D-Link)
• DNS Client
• DDNS Client (D-Link)
• SMTP Client
• FTP Client
• HTTP Server
• PPPoE
• UPnP Port Forwarding
• LLTD
Security
• WPS
• WEP
• WPA-PSK, WPA2
• HTTP digest encryption
• Password authentication
System Requirements for Web Interfaces
• Operating system: Microsoft Windows XP/Vista/7/8, Mac OSX
• Browser: Internet Explorer 7/Firefox 12/Safari 6/Chrome 20 or higher with Java enabled
Event Management
• Event notification and uploading of snapshots/video clips via e-mail (SMTP) or FTP
• Motion Detection
Remote Management
• Configuration accessible via web browser
Mobile support
• mydlink Lite app for iOS and Android
• mydlink+ app for iOS and Android
Physical Parameters
Weight
• Device: 292.8 grams
• Stand: 60.8 grams
Power
• 5 V DC 1.5 A, 50/60 Hz
Power Consumption
• 4.8 watts
Temperature
• Operating: 0° to 40°C
• Storage: -25° to 70°C
Humidity
• Operating: 20% to 85% non-condensing
• Storage: 5% to 95% non-condensing
Certifications
• CE
• CE LVD
• FCC
• C-Tick
Dimensions
• 55 x 43.1 x 95 mm (Camera only)
• 58 x 101.4 x 128.8 mm (Including mounting bracket)
Fiziskie raksturlielumi
Informācija pasūtījumam
DCS-5000L
Pan & Tilt Wi-Fi Day/Night Camera