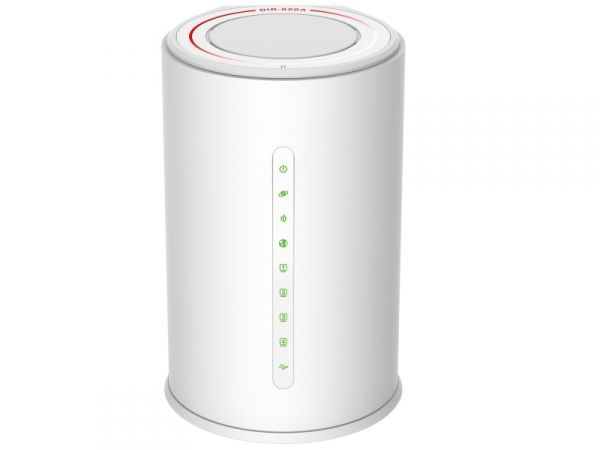 DIR-620
EOL
Wireless N300 router with 3G/CDMA/LTE and USB port
Nereden Alınır
Tanımlama
USB port The router includes a USB port for connecting a USB modem, with which You can quickly connect to the Internet. In addition, You can connect to the USB port on the router USB drive that will be used as a network drive, or printer. Wireless interface Using a wireless router DIR-620, You can quickly create a wireless network at home or in the office that will allow Your employees or members of Your family to connect to your wireless network virtually anywhere (within range of your wireless network). The router can operate as a base station for connecting wireless devices of the standards 802.11 b, 802.11 g, and 802.11 n (at speeds up to 300 Mbps). The router supports multiple functions for the wireless interface. The device supports several security standards (WEP, WPA/WPA2), filtering of connected devices by MAC address, and allows you to use technology WPS and WMM. In addition, the device is equipped with a button to disable/enable the Wi-Fi network. If necessary, for example, leaving home, You can turn off the router's wireless network just one press on the button, devices connected to LAN ports of the router will remain in the network.1 4-port switch Built-in 4-port switch allows you to connect computers equipped with Ethernet adapters, game consoles, and other devices to Your network. Safety Wireless router DIR-620 is equipped with a built-in firewall. Advanced security functions minimize threats of hacker attacks, prevent unwanted intrusions to Your network, and block access to unwanted websites for users of Your LAN. Easy configuration and update To configure the wireless router DIR-620 friendly web-interface (available in several languages). Now You can easily upgrade the firmware – the router itself finds approved firmware on the update server D-Link, and notifies the user that it is ready to install.
Genel Özellikler
Fiziksel Özellikler
Hardware
Interfaces · WAN Port 10/100BASE-TX
· 4 LAN ports 10/100BASE-TX
· USB 2.0 port
Indicators · POWER
· WPS
· INTERNET
· WLAN
· 4 LAN LEDs
· USB
Buttons · ON/OFF Button to turn on/off
· RESET button for reset to factory default settings
· WPS button to setup a secure wireless connection and
enable/disable wireless network
Antenna · Two internal Omni-directional antenna with gain of 2.5 dBi
Scheme MIMO · 2 x 2
Power connector · Connector for power supply connection (DC)
Software
Connection types WAN network · LTE network
· 3G
· PPPoE
· IPv6 PPPoE
· Dual Stack PPPoE
· Static IP or Dynamic IP
· Static IPv6 / Dynamic IPv6
· PPPoE + Static IP
· PPPoE + Dynamic IP for
· PPTP and L2TP + Static IP
· PPTP and L2TP + Dynamic IP for
Network features · Support standard security IEEE 802.1 x to connect to the Internet
· DHCP server/relay
· Track the status of dhcpv6 server (stateful/stateless), the delegation of IPv6 prefix for
· DNS relay
· Support records DNSv6 class AAAA
· Dynamic DNS
· Static IP-routing
· Static IPv6 routing
· Proxy IGMP
· REAP
· Support UPnP IGD
· Support VLANs
· Support the functions of the ping command from external network (WAN ping respond)
· SIP Protocol support
· Support RTSP
· Reservation
Firewall features · network address translation (NAT)
· Monitoring the status of network connections (SPI)and
· IP-filters
· IPv6 filters
· Mac-filter
· Url-filter
· DMZ-zone
· The protection ARP - and DDoS-attacks
· Virtual servers
· Integrated content filtering service Yandex.DNS
VPN·, IPSec and PPTP and L2TP/PPPoE Pass-through
Software
Features USB interface · USB modem
Auto connection to available type of supported network (4G/3G/2G)1
The on/ off PIN-code verification, change PIN-Code2
· USB drive
File browser
Print server
Account to access the drive
Built-in Samba server
Built-in FTP server
Built-in DLNA server
Built-in torrent client Transmission, the possibility of downloading files on the USB
the drive and
Management · Local and remote access to settings through TELNET/WEB (HTTP/HTTPS)
· Web-based configuration and management in multiple languages
· Notification on connection problems and auto redirect to
settings
· Firmware update via web interface
· Automatic notification on new firmware version
· Save and load configuration
· Support of remote logging
· Automatic synchronization of system time with NTP server and manual
setting the date and time
· Ping function
· Traceroute utility
· The TR-069 client
The settings of the wireless module
Standards · IEEE 802.11 b/g/n
Frequency range · 2400 ~ 2483,5 MHz
The WLAN security · WEP
· WPA/WPA2 (Personal/Enterprise)
· MAC-filter
· WPS (PBC/PIN)
Additional features · the "client"
· WMM (Wi-Fi QoS)
· Management of connected devices
· Advanced settings
Wireless speed · IEEE 802.11 b: 1, 2, 5.5 and 11 Mbps
· IEEE 802.11 g: 6, 9, 12, 18, 24, 36, 48 and 54 Mbps
· IEEE 802.11 n: from 6.5 to 300Mbps (from MCS0 to MCS15)
Transmitter output power
The maximum value of the power
the transmitter will change
accordance with the rules
regulations in Your
the country
· 802.11 b (typical at room temperature 25 °C)
17 dBm (+/-1.5 dB) at 1, 2, 5,5, 11 Mbps
· 802.11 g (typical at room temperature 25 °C)
14 dBm (+/-1.5 dB) at 6, 9, 12, 18, 24, 36, 48, 54 Mbps
· 802.11 n (typical at room temperature 25 °C)
HT20
14 dBm (+/-1.5 dB) at MCS0/1/2/3/4/5/6/7/8/9/10/11/12/13/14/15
HT40
14 dBm (+/-1 dB) at MCS0/1/2/3/4/5/6/7/8/9/10/11/12/13/14/15
Physical parameters
Dimensions · 160 x 120 x 59 mm
Weight · 200 g
Conditions
Power · Output: 12 VDC, 1 A
Temperature · operating: 0 to 40 °C
· Storage: -20 to 65 °C
Humidity · operating: 10% to 90% (non-condensing)
· Storage: 5% to 95% (non-condensing)