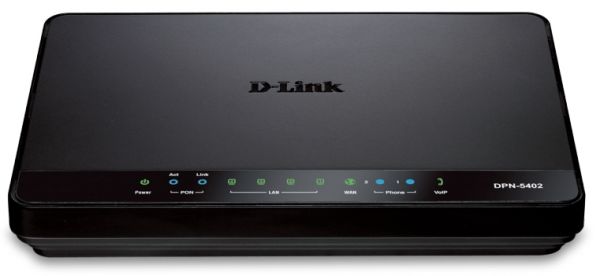 DPN-5402
EOL EOS
Subscriber unit GPON ONT with 4-port 10/100/1000Base-T, 1-port GPON and 2 FXS ports
Nereden Alınır
Tanımlama
Use of new technology GPON
Device DPN-5402 GPON (Gigabit Passive Optical Network) ONT (Optical Network Terminal) provides a connection on the optical channel to the device class GPON OLT side CO and connections at 10/100/1000Mbps with the end user. The main advantage of GPON technology is the optimum utilization of bandwidth. This technology is the next step in providing high-speed access to Internet services for homes and businesses. This unit ONT provides a reliable connection with high bandwidth over long distances for users who live or work in remote apartment buildings and business centers.

High Speed ​​Internet Access
DPN-5402 device allows telecommunications service providers to meet the growing needs of users in the services provided, ensuring the fastest possible through the use of optical fiber. The device supports symmetric mode and provides various options for deploying networks in homes, schools and apartment buildings and business centers.

Supported Services
The device provides the ability to use services such as IPTV, VOD (Video-On-Demand), VoIP (Voice over IP), VPN (Virtual Private Networks), Web-surfing, email access and instant messaging services.

Support for voice services
DPN-5402 device has two ports FXS, the opportunity to use voice services provider.
Genel Özellikler
Fiziksel Özellikler
LAN features
• Supports 10BASE-T (IEEE802.3)
• Support for 100BASE-TX (IEEE802.3u)
• Support 1000BASE-TX (IEEE802.3ab)
• Supports IEEE802.3x flow control. (PAUSE frame)
• Auto-negotiation, auto MDI / MDIX cross
• Support for the Ethernet packet size to 1522 bytes (Tag Packet)
• Manual adjustment of speed for 10M, 100M, 1000M
• Type of cable: UTP (Category 5e)
• Support for 802.1Q VLAN (up to 32 VLAN, VID1 - 4094)
• VLAN trunk, VLAN port-based user and the type of service

Device Interfaces
• Port GPON (connector SC)
• 4-port 10/100/1000 BASE-TX Gigabit Ethernet (RJ-45)
• 2 ports VoIP FXS (RJ-11)

GPON specifications
• Upstream (Transmitter): 1310 + / - 50 nm, max. rate of 1.244 Gb / s
• Downstream (receiver): 1490 nm + / - 10 nm, max. rate of 2.488 Gb / s
• 1 port with SC connector with connection over fiber from the CO
• Cable type: single-mode optical
• The maximum number of splitters ONT: depends on the capabilities of OLT
• Maximum transmission distance: 20 km
• Supports IGMP v1/v2/v3 Snooping, 16 records can be turned on / off, Fast leaving
• Configuring port UNI (speed, duplex mode, flow control, on / off, auto)
• Address Management (add, delete, clear the MAC-address)
• ONT dying gasp
• Authentication ONT
• AES Encryption
• Study of MAC-addresses

Features VOIP
• 2-port FXS: incoming and outgoing calls, call waiting, three-way conference calling, call forwarding, caller ID display
• Voice codecs: 711 a-law, G.711 u-law, G.723.1a, G.729a, G.729b
• Voice: matching RTP (RFC1889)
• Call Control SIP (RFC3261)
• T.38 Fax relay
• Echo cancellation

Indicators
• Power
• Link (PON)
• ACT (PON)
• LAN (1-4)
• WAN
• Phone (1-2)
• VoIP

Output Power
• Power Input: 100-240 VAC
• Power output: 12V DC, 1.0A
• Power on / off

Dimensions (L x W x H)
• 195 x 123 x 38 mm

Operating temperature
• 0 to 40 °

Storage temperature
• -40 To 70 °

Humidity
• To 95% (non-condensing)

Certificates
• FCC Class B
• CE