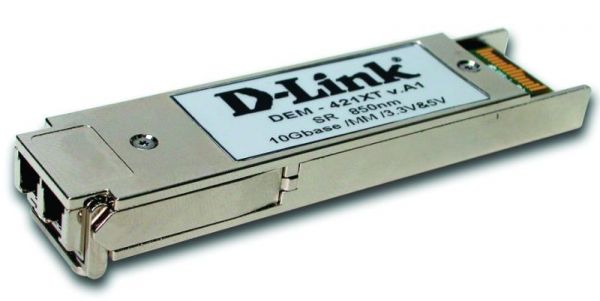 DEM-421XT/A
EOL EOS
10GBASE-SR Fiber XFP 10Gigabit Transceiver
Where to buy
Description
Optical Data Communication
This transceiver provides a high performance and cost-effective solution for serial optical data communication applications specified for multi-mode supporting up to 10.51875Gbps rate. It operates with +3.3V and +5V power supply. The transceiver is intended for multi-mode fiber, operates at a nominal wavelength of 850nm and complies with Multi-Source Agreement (MSA) Small Form Factor Pluggable (XFP). The transceiver consists of a transmitter optical subassembly, a receiver optical subassembly and an electrical subassembly. It is housed in a metal package and the combination produces a reliable component.

Wide Ranging Applications
This fiber Gigabit transceiver is ideal for deployment as for Ethernet links, fiber channel links at 10Gbps, high-speed backbone interconnection and switched backbones.
General features
Standard
IEEE 802.3ae 10GBASE-SX 10Gigabit Ethernet

Transceiver Type
XFP (Small Form Factor Pluggable)

Connector
Duplex LC

Data Rates
10.3125Gbps to 10.51875Gbps

Wavelength
850nm

Cable Type
Multi-mode fiber

Maximum Cable Distance Coverage
300 m
Voltage
+3.3V and +5.0V support

Operating Temperature
0 to 70 C

Storage Temperature
-40 to 85 C

Humidity
0% to 85% RH

Emission
- FCC Class B
- CE
Order info
DEM-421XT 10GBASE-SR Fiber XFP Transceiver